Billionaire Family Emerges as Firm Making $430 Loans Surges
By and
Thailand's Muangthai Leasing is up 373% since listing in 2014

Company's married founders have become a billionaire family
Nattananporn Hamali heaved a sigh of relief after saving her fruit juice business in Bangkok with a 12,000 baht ($337) loan.
Using her motorbike as collateral, Nattananporn secured the credit at an interest rate of 25 percent from Thailand's Muangthai Leasing Pcl to replace far costlier debt from loan sharks.

"A large portion of my earnings went to interest payments, so the cheaper credit will help ease that pressure," the 26-year-old said.
Millions of Thais like Nattananporn need working capital for small businesses, but lack the credit history required by commercial banks. Firms such as Muangthai Leasing, Srisawad Power 1979 Pcl and Group Lease Pcl are vying to tap that demand. Sensing potential, investors have driven Muangthai Leasing's shares up 373 percent since it listed in 2014, turning married founders Chuchat Petaumpai and Daonapa Petampai into a billionaire family.
"There are a lot of areas in Thailand that have great potential for us to penetrate," Chuchat, 63, said in an interview, adding he expects strong earnings growth for at least the next couple of years.
The family's fortune is valued at about $1.1 billion, according to the Bloomberg Billionaires Index. Chief Executive Officer Chuchat and Managing Director Daonapa each own about 34 percent of the company. Sons Parithad and Surapong own smaller stakes in the lender.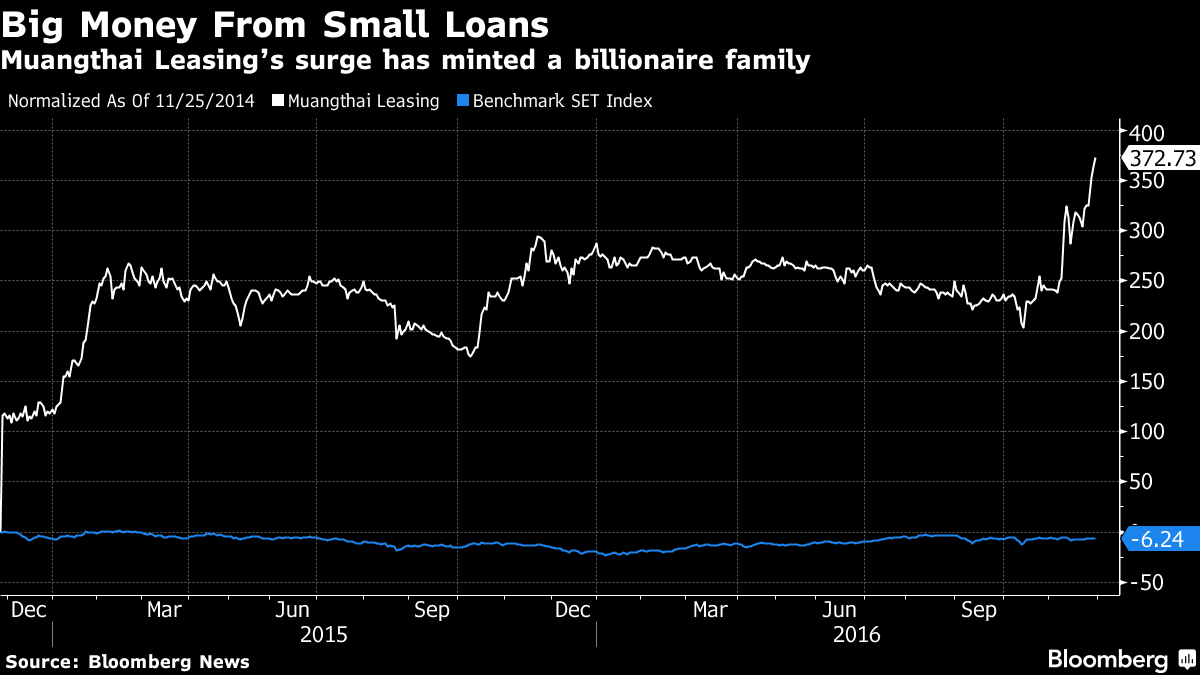 Muangthai and rivals target farmers and blue-collar workers, with motorcycles, cars and land used as collateral. These assets are more than enough to cover the debt, eliminating the need for a good credit history, according to Chuchat.
Competitor Group Lease has surged about 779 percent in the period since Muangthai listed, while Srisawad Power 1979 has advanced 102 percent.
Muangthai rose 2 percent to a record 26 baht per share on Tuesday. The lender had one of the biggest increases in consensus analyst ratings over the past four weeks among Southeast Asian stocks with a market capitalization of more than $1 billion, according to data compiled by Bloomberg.
The company's net income rose 82 percent in July through September to a quarterly record of 400.9 million baht. New loans jumped 88 percent to 10.5 billion baht. The non-performing-loans ratio is about 1.1 percent, according to an investor presentation.
'High Risk'
Chuchat said borrowers would rather pay off the debt than lose their collateral, adding collectors visit households swiftly if a payment is missed.
"Consumer loans have vast potential," said Adithep Vanabriksha, Bangkok-based chief investment officer at Aberdeen Asset Management Co. "But high profit margins also go with extremely high risk. The loan collections are the key success to prevent any fallout from such bad debt."
Muangthai plans to expand the number of branches to 2,200 by the end of 2017 from about 1,500 at present. There were 506 at the end of 2014.
Aside from Thais running small businesses, Chuchat said more farmers are looking for loans to help with living costs after rice prices slumped.
He's previously said that the company gives individual borrowers the equivalent of about $430 on average at annual interest rates of around 23 percent, compared with the 60 percent charged by loan sharks.
Chuchat has a master's degree in finance from Oklahoma City University in the U.S. Earlier in his career, he worked as a loan officer at Thai commercial banks and finance companies. 
In 1992, he set up Muangthai in Phitsanulok province, which lies about 370 kilometers (231 miles) north of Bangkok. The company initially focused on northern and central Thailand, before spreading south, including to Bangkok.
Small-ticket lending is a bright spot in an economy stuck in second gear. Gross domestic product growth slowed to 3.2 percent in June through September from a year earlier. The Bank of Thailand has kept its benchmark interest rate at 1.5 percent for 12 straight meetings to try and support the expansion.