Britain's Big Banks Struggle With Toughest Stress Tests Yet
By and
All likely to top lower bar, some may stumble on new measure

Exam's China slowdown may hinder HSBC, Standard Chartered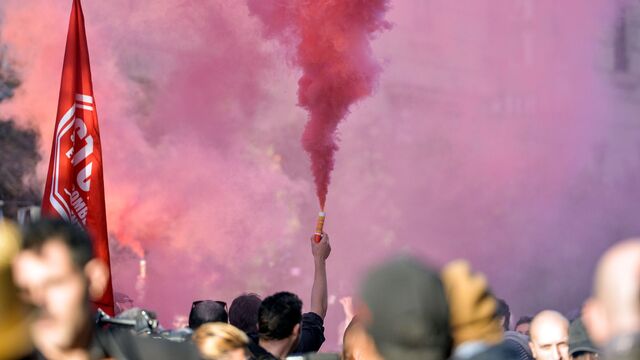 The Bank of England added a new, higher bar to its third round of public stress tests. Some of the U.K.'s biggest banks will scrape through; others may not clear it.
The seven major British lenders tested will probably beat the lowest measures of strength required to pass the annual BOE health check when it is released Wednesday, Autonomous Research LLP said in a note this month. Royal Bank of Scotland Group Plc and Barclays Plc risk a "soft fail" of tougher thresholds set for lenders deemed to be integral to the global banking system, they said. HSBC Holdings Plc and Standard Chartered Plc's results may be rattled by a Chinese recession scenario.
Each bank now must top its individual hurdle rate as well as a new threshold, called the systemic reference point, that takes into account the potential global repercussions if the lender collapses. Firms that fall short of either measure will have to boost their capital ratios, though the BOE will force them to take "less intensive" action if they only miss the SRP.
"With bank investing these days, you need to be more cognizant of the economy, the rate environment and crucially of the regulator," especially if one bank does much worse than its peers in a stress test, said Barrington Pitt Miller, a research analyst at Janus Capital Group in Denver.
The BOE's test will also include Lloyds Banking Group Plc, Banco Santander SA's British arm and Nationwide Building Society. The hurdle rate requires all the banks to retain capital equivalent to 4.5 percent of their assets weighted by risk, plus Pillar 2A -- a requirement that varies depending on the specific risks for each bank -- in the stressed scenario.
China Crisis
Simon Adamson, an analyst at CreditSights in London, said he expects none of the lenders to fail the hurdle rate, moving investors' attention to the systemic reference point. Globally significant lenders that fall short of that may be given more time to raise capital or be allowed to issue additional Tier 1 bonds rather than equity.
Regulators began stress tests to restore confidence in the financial system after the bailouts that resulted from the financial crisis eight years ago. Authorities impose a "severe but plausible" scenario to ensure banks can withstand strain and keep credit flowing.
For 2016, the test features a sharp slide in Hong Kong and China, a 1.9 percent contraction in the global economy, and exchange-rate volatility as emerging-market currencies depreciate against the U.S. dollar. It also assumes a 31 percent crash in British house prices during the five-year period, while U.K. commercial real estate dives 42 percent.
The adverse scenario was drawn up in March and doesn't model the impact of the Brexit negotiations or of the actual exit from the European Union, expected for 2019.
The Chinese downturn scenario is the biggest threat to Asia-focused HSBC Holdings Plc and Standard Chartered Plc, which may be at risk of failing to meet their systemic reference point thresholds, according to RBC Capital Markets.
'Soft Fail'
"We see some risk of a soft fail at both banks despite high starting capital ratios," Robert Noble, an analyst at RBC in London, wrote in a Oct. 24 note to clients. "There is a risk for both of these banks that the BOE increases the losses on Chinese and Chinese-linked exposures."
Shares of the five largest U.K. banks all fell more than 1 percent at 10:50 a.m. in London, led by RBS's 2.7 percent decline.

Politics, including a constitutional referendum in Italy and French and German elections, are likely to play a key role next year, said Edward Chan, banking partner at Linklaters LLP in London. Britain has pledged to trigger its exit from the European Union in the first quarter of the year.
"We could be looking at high market volatility in 2017, with contagion to U.K. banks a very real risk," he said. "Sound capital positions are therefore critical."
The BOE test goes beyond economic forecasts, asking lenders to provide stressed projections of their fines and settlements. 
RBS Risk
That means RBS may struggle, because the 73 percent taxpayer-owned lender hasn't made much progress since it scraped through the BOE's 2015 check-up: it has yet to settle U.S. probes into the sale of mortgage-backed securities that could cost the bank billions, and is still trying to sell its Williams & Glyn unit.
The Edinburgh-based lender recorded the third-biggest slump in capital buffers among major lenders in stress tests by the European Banking Authority earlier this year, which show it could be susceptible to a weak grading by the BOE, according to analysts at Autonomous led by Christopher Cant.

While Barclays may fare badly in the test because its common equity Tier 1 ratio gives it the lowest starting point among lenders, it has a plan underway to boost capital reserves by selling its African business.