business
Modi's Rural Supporters May Not Hang On Much Longer
By and
Test for Modi with key economic indicators set to be released

Patience frays as currency queues stretch into a fourth week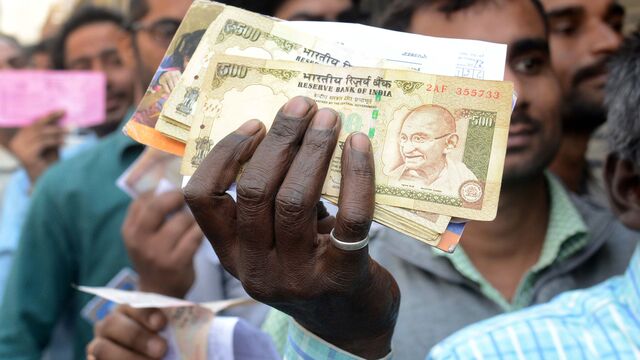 The most ardent supporters of Prime Minister Narendra Modi's surprise currency withdrawal are those you'd least expect: India's rural poor, who are suffering the most with the prolonged cash shortages.
But the backing of many from India's villages -- based on a belief that Modi's actions will even out the scale of inequality and reduce corruption -- may be short-lived. 

The jury is still out on the political and economic impact of the decision to target unaccounted cash. And it will be another two months before the government releases inflation, industrial production and growth figures -- key areas that may be affected by the prime minister's shock move on Nov. 8 to ban high-denomination notes, taking out 86 percent of circulating currency.
Meanwhile, five states, including the most populous state of Uttar Pradesh, will go to elections, leaving the ruling Bharatiya Janata Party vulnerable to a voter backlash if one of its major support bases sees no benefit from the demonetization process.
To intensify the campaign against the note ban, several opposition parties called for nationwide protests on Monday, saying the process is a political move dressed up as a fight against corruption.
India's Cash Chaos by the Numbers: Guide to Banknote Revamp
Public opinion
It is not clear whether demonetization will eliminate so-called black money, or who will pay the price if it fails, said Arati Jerath, a New Delhi-based author who has written about Indian politics for about four decades. It will take at least another three weeks to gauge the economic and political impact, she said.
Jerath points to the public reaction to Indira Gandhi's decision to impose a state of emergency in 1975 as an example of how quickly the tide of public opinion can change.
Initially people supported the emergency, welcoming improvements in law and order and the punctuality of government officials. Later they turned against Gandhi when they realized its negative effects, particularity arbitrary abuse of power by bureaucrats, she said.
If the Modi government fails to address concerns around cash withdrawals and the situation worsens, there could be food shortages, farmers' distress, layoffs, rising unemployment and a slowdown of the economy.
"At the moment people are patient, they are really giving it a chance, waiting and watching," said Jerath. "If the situation does not improve by the middle of next month, there will be a backlash against demonetization."
Any effect will also be visible in provincial elections, including agrarian states of Uttar Pradesh and Punjab, where agriculture is the main source of income. "If there is a negative fall out, then the BJP will do very badly in those states," Jerath said.
Severe shortages
The government's decision to withdraw 500 ($7.5) and 1,000 rupee notes -- and its inability to keep pace with demand for replacements -- has left farmers like Noor Mohammad with a severe cash shortage.

Mohammad sold his 3.8 tons of paddy at northern India's Karnal wholesale market but is yet to receive the 87,000 rupee payment as the buyer does not have the new notes to pay him.
Despite the challenges, he supports what the government describes as a milestone policy to stamp out "black money" -- funds earned through corrupt ways and used by those seeking to avoid paying taxes.
"We struggle to earn very little, they enjoy their lives; we work in fields, they move in big cars," said Mohammad, adding he desperately needs the payment to buy fertilizer for his winter crop. "It is good that they will be caught. Something will happen to them. They will live in fear."
Punish the rich
"The inequality in India is so high that most rural people get a sense of satisfaction -- with this move their looted money will be caught and their economic disparity will reduce," said Niranjan Sahoo, an analyst at the New Delhi-based Observer Research Foundation. "Most people think they are poor because rich people looted their money."
India has one of the highest levels of inequality in Asia and it has been rapidly rising since 1990. Now the richest one percent of Indians own 58.4 percent of the country's wealth, Mint reported, citing global wealth data from Credit Suisse Group Ag. It also has high rates of corruption -- India is ranked 76th out of the 168 countries in the 2015 Corruption Perceptions Index conducted by Transparency International.
In rural households, which make up about 70 percent of India's population, poverty is so severe that about 74 percent earn less than 5,000 rupees month with more than half depending on manual labor for their livelihood.
As the scramble for cash continued and pressure on Modi mounted, the prime minister tried to rally public support. "After demonetization, the poor are enjoying a sound sleep, while the rich are running to buy sleeping pills," Modi said at a rally in Uttar Pradesh on Nov. 14.
Businesses suffer
Like Mohammad, small shopkeepers, daily wage laborers, vendors and housewives in rural and semi-urban areas have embraced the note ban, even as they've been forced to leave their work to stand in long queues for hours to withdraw cash.
In a survey conducted by Cvoter on November 21, nearly 87 percent of respondents felt the move was hurting those with ill-gotten money and 85 percent believed the inconvenience was worth the effort to fight black money. Just over 1200 people were surveyed across 252 parliamentary areas on Nov. 21.
But in the cities, many business people, academics and economists are cautious in their assessment of demonetization, arguing that even if it does increase bank liquidity, it will slow the growth in short term, hurt businesses and reduce consumption.
Weddings hit
The currency crackdown has also crippled the wedding market as the Reserve Bank of India only allows the withdrawal of 250,000 rupees from bank accounts for weddings, under strict conditions. 
Santosh Tewari, an auto rickshaw driver in Delhi, has no sympathy for those who suffer with the bank's restrictions and says he is happy with Modi's decision. "Why is there a need to spend so much money on a wedding?," said Tewari, 48. "I can comfortably conduct my daughter's marriage with this amount."
People are positive about the move because they are focused on the national interest, said D. Jayaraj, a professor with Madras Institute of Development Studies.
"Everybody is responding in a way that shows their allegiance to the nation," because there is a "kind of pressure to prove the patriotism," said Jayaraj. "Certainly this has affected the farmers and the poor people. And it's a jolt."
(
Updates with threats of protests in fifth paragraph.
)
Before it's here, it's on the Bloomberg Terminal.
LEARN MORE