business
Fillon Wins French Republicans' 2017 Presidential Nomination
By and
Juppe endorses rival in primary as battle with Le Pen looms

Victor says result shows that France won't accept decline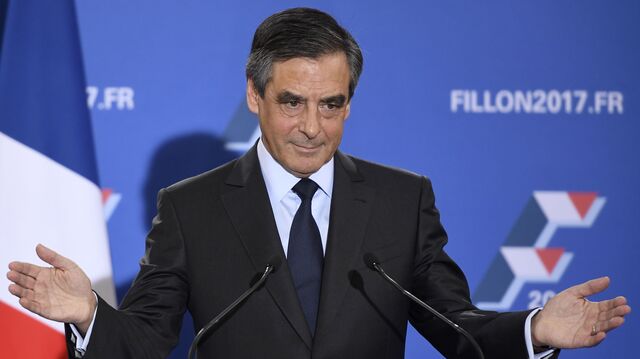 Former Prime Minister Francois Fillon was nominated as the French Republicans' candidate for next year's presidential election, as voters on the right picked a figure promising tough economic reforms and unabashedly embracing traditional values to lead their party back to power.
With about half the vote counted and Fillon leading by almost 40 percentage points, his rival Alain Juppe conceded and called on his supporters to rally behind the winner. Fillon led by 67 percent to 33 percent with almost all the polling stations having reported.
The result marks the end of months of campaigning in the Republicans' first-ever primary contest and completes the opening phase of a presidential race that will end next May. Fillon was running a distant third for most of the contest until his upset first-place finish against six other candidates one week ago. He will now become the main rival for Marine Le Pen's anti-immigration, anti-euro platform in next spring's election.
"My campaign has been understood: France will not stand for its decline," Fillon said. "My ambition is to lift up the nation to be the best version of itself."
Whoever wins office next May will take over a country where growth and employment lag European averages and where terrorists have killed more than 200 people in less than two years, stoking religious tension and triggering soul-searching about France's national identity. Concern about the national debt, which stands at about 97 percent of economic output, was the top motivation behind those supporting Fillon, according to Jean-Daniel Levy, a pollster at Harris Interactive in Paris.
Social Conservative
Fillon, one of the rare French politicians who proclaims his admiration for Margaret Thatcher, wants to lengthen the work week to 39 hours from 35, to increase the retirement age to 65 and add immigration quotas. He has vowed to eliminate half a million public-sector jobs and cut spending by 100 billion euros ($106 billion) over five years in office. He's also proposing a 40 billion-euro tax-cut for companies and a constitutional ban on planned budget deficits.

The 62-year-old former premier has also made no secret of his traditional social mores. In campaign speeches he talks of the family as the foundation of society, calls for school children to wear uniforms and wants history taught conventionally without doubts raised about national heroes. Though is personally opposed to abortion, he has repeatedly voted to provide access to the procedure and promises not to touch the law in that area.
Those views may help Fillon make inroads against Le Pen, who until Sunday has consistently lead polls of voting intentions for the first round of the presidential election. Two polls released after the result of the primary showed the Republican winning both rounds of the presidential election. Odoxa showed Fillon winning the first round by 10 points from Le Pen and then trouncing her 71 percent to 20 percent in the runoff.
With the Republican candidate in place, attention will now turn back to the ruling Socialist Party and the future of Francois Hollande, the least popular French president in half a century. Prime Minister Manuel Valls said in an interview published Sunday that he may seek the Socialist candidacy, even though his boss is still considering his own bid for a second term.
— With assistance by Gregory Viscusi
(
Updates with background on Fillon from sixth paragraph.
)
Before it's here, it's on the Bloomberg Terminal.
LEARN MORE