Indian Central Bank Takes Steps to Curb Rising Bank Liquidity
By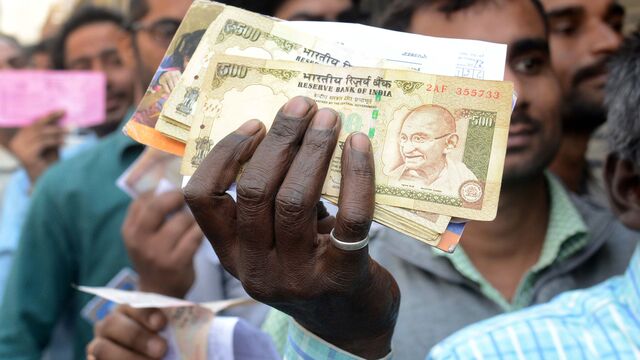 The Reserve Bank of India told lenders to set aside more deposits as reserves to curtail surging banking system liquidity that risks stoking inflation.
Banking system funds have surged after Prime Minister Narendra Modi banned 500 rupee ($7.30) and 1,000 rupee notes in a bid to curb graft and ordered people to deposit the money in banks. That has led to lenders accumulating 5.1 trillion rupees in deposits as citizens in Asia's third-largest economy rush to submit the now defunct bills. The RBI said banking-system liquidity is likely to increase further in the weeks ahead and it has decided to absorb a part of it by "applying an incremental cash reserve ratio (CRR) as a purely temporary measure," it said in a statement Saturday.
A banking system awash with unused cash could cause borrowing costs to crash and lead to inflation, threatening to hurt financial stability in the $2 trillion economy. Indian sovereign bonds, which have rallied in November, may react negatively to the news, according to South African lender FirstRand Ltd.
"Excess liquidity could be inflationary and the RBI couldn't have let this continue," said Paresh Nayar, Mumbai-based head of currency and money markets at the local unit of FirstRand. "It's a harsh measure and bonds will fall in reaction to this news on Monday."
India's benchmark 10-year sovereign yield fell 20 basis points in the week to Nov. 25. It has plummeted 56 basis points this month, on course for the biggest drop since April 2009, as a banking system awash with cash boosts demand for debt.
Read: India Said to Mull Cash-Control Tool Boost as Deposits Surge
"On the increase in net demand and time liabilities, between Sept. 16, 2016 and Nov. 11, 2016, scheduled banks shall maintain an incremental cash-reserve ratio (CRR) of 100 percent, effective the fortnight beginning Nov. 26, 2016," the RBI said. "As the incremental CRR is intended to be a temporary measure within the Reserve Bank's liquidity management framework to drain excess liquidity in the system, it shall be reviewed on Dec. 9, 2016 or even earlier."