Your Evening Briefing
Here are today's top stories
Bloomberg News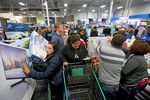 Want to receive this post in your inbox every afternoon? Sign up here.
Good afternoon and happy Friday. It's a big day for retailers as the holiday season kicks off.
Let the holiday price wars begin. Wal-Mart, Target and other brick-and-mortar chains are counting on heavier discounts and a bigger online selection to help keep up with Amazon this holiday season. Based on one study of holiday circulars, Wal-Mart is offering an average discount of 39 percent, compared with 35 percent last year. At Target, the price cuts grew to 38 percent from 36 percent.
Retailers are counting on Americans turning their attention to Black Friday. This holiday season is expected be a boon for retailers, with low unemployment, gas prices and inflation, while wages, home values, and the stock market continue to rise. Retailers, some of whom blamed the U.S. presidential election on consumers' recent reluctance, are hoping the holiday season will give shoppers a reason to open their wallets.
Trump's name may not stay on Toronto tower. Trump International Hotel & Tower in Toronto is being pitched for sale with a suggested price of at least $222 million, though there's no guarantee the U.S. president-elect's name will stay on the building after it's sold. Recently the developer and other condo owners sought to remove Trump's name and management firm from the property.
Financial institutions are gauging creditworthiness with phone data. Using mobile calling patterns and locations is tantalizing for lenders because it could help them reach some of the 2 billion people who don't have bank accounts. On the other hand, some of the phone data could be used to discriminate against potential borrowers.
Solar-panel roads will be built on four continents next year. As solar costs plummet, panels are being increasingly integrated into everyday materials. Electric avenues that can transmit the sun's energy onto power grids will be built in the U.S. state of Georgia, in Calgary in Canada, as well as in Africa, Japan, and in the EU.
Women mix business with pleasure at the networking society Skirt Club. The founder's goal is to provide a safe space for women to enjoy one another's company under the liberating rubric of sexual exploration. While that aspiration may not be as risque as the images some minds might conjure, it's more powerful.
Two chefs took a 75,000-calorie tour of France–and you can too. Shane McBride and Daniel Parilla went on a culinary adventure while researching the menu for their new restaurant Augustine in New York City. If you want to recreate the chefs' epic culinary adventure in the two capitals of French cuisine, here's the blueprint. Just remember to pack loose fitting clothing.

Before it's here, it's on the Bloomberg Terminal.
LEARN MORE