Kuroda's Pay Rise Leaves Him Ahead of Yellen And Behind Draghi
by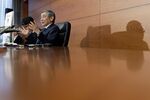 Governor Haruhiko Kuroda is getting a 0.9 percent pay rise for the fiscal year ending in March, leaving him ahead of Federal Reserve counterpart Janet Yellen and behind Mario Draghi of the European Central Bank.
BOJ chief's annual income will rise to 35 million yen ($309,000), following a 0.4 percent gain in the previous 12 months, according to a statement released by the central bank in Tokyo on Friday. Yellen made $199,700 last year and Draghi earned 386,000 euros ($409,000). Thomas Jordan of the Swiss National Bank received 876,500 francs ($865,000).
Kuroda's increase highlights the frugality of salary hikes in Japan and contrasts with the governor's calls for companies to increase wages more aggressively to help revitalize the economy.
Some economists see 3 percent income growth as necessary to push inflation to the BOJ's 2 percent target. Core consumer prices fell 0.4 percent in October, according to data released Friday.
Before it's here, it's on the Bloomberg Terminal.
LEARN MORE