Italy's Padoan Seen as Likely Premier If Referendum Defeated
By and
Finance Minister would be strong contender if Renzi quits

Padoan would reassure markets, leaders, senior officials say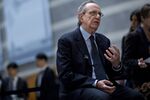 Italian Finance Minister Pier Carlo Padoan would be a leading contender to succeed Matteo Renzi at the head of a new government if the premier loses the Dec. 4 constitutional referendum and resigns as he has promised to do, said a person familiar with the situation.
Padoan, 66, has the potential to reassure financial markets and European Union leaders, according to a senior state official not authorized to speak publicly about the issue. He, the person said, would lead an executive that would stay in power only until parliament approves a new administration, with early elections likely in the first of half of 2017. In the Italian constitution, it is the president who appoints the prime minister.

Investors are unsettled by the prospect of political and economic instability should Renzi's Senate reform be defeated. The euro has slid and Italy's 10-year bond yield has climbed ahead of the vote. Padoan himself has not ruled out staying on in his current role -- or even taking a new position -- under a different government.
"I have accepted the role that I have been asked to cover with a great sense of honor," Padoan told Sky Tg24 television on Friday. "Of course, it will be up to the new government, if there will be a new one which I don't think will be the case, to decide its composition."
A detailed look here into why the Italian referendum is unsettling markets.
Padoan said he expected the referendum to pass, adding that Italy needed a political government -- "that is, the current one" -- rather than one led by a technocrat. The official pointed out that Padoan would be seen as quite political after serving for more than two years under Renzi. Padoan's office declined to comment on his possible role in a future government.
In an interview published in La Stampa on Saturday, Renzi said a technocratic government would be the most likely scenario if the referendum was rejected, and reiterated that this "would not serve the interests" of the country.
Renzi also took a swipe at former Premier Mario Monti's tenure as one that raised taxes and debt, and ruled out negotiations with former Prime Minister Silvio Berlusconi. "He will find Beppe Grillo, not me, at the negotiation table," Renzi said.
Any future government would face a host of unfinished business, from the dire state of the country's banks to dismal economic growth. Under Padoan's watch, Italy overhauled the labor code, making it easier for employers to hire and fire staff, and offered social-contribution discounts to help unemployment.
President Sergio Mattarella's preferred pick could also be Senate President Pietro Grasso, a former anti-Mafia prosecutor, the official said. The person added that it would be impossible to form a government without Renzi's approval as he remains leader of the Democratic Party which still has a parliamentary majority.
Padoan's career spans academia, with positions in universities from Japan to Belgium, and a stint at the International Monetary Fund, where he served as an executive director from 2001 to 2005. He joined the Organization for Economic Cooperation and Development in 2007 as deputy secretary-general and added the role of chief economist in December 2009.
— With assistance by Chiara Albanese
Before it's here, it's on the Bloomberg Terminal.
LEARN MORE