Greece's Biggest Bank Sees Trump Boost to Country's Economy
By and
Piraeus Bank chair George Handjinicolaou speaks in interview

Chairman declines to give timeframe for pending CEO pick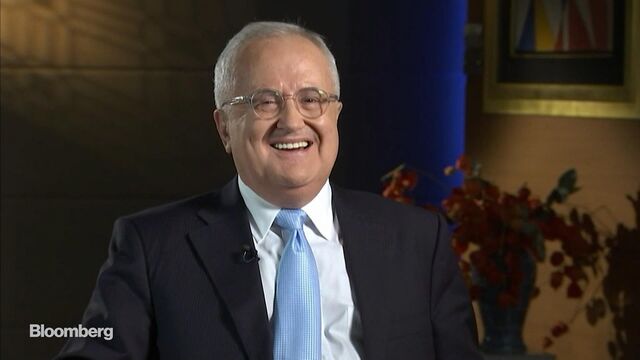 Donald Trump's election victory could spark spreading economic growth that lifts Greece out of recession, helping the country's struggling lenders along the road to recovery, according to Piraeus Bank Chairman George Handjinicolaou.
"If the bullish sentiment that currently exists in the U.S. with the election of a new president is a reflection of reality, I think the rest of the global economy will feel the positive effects of that and even Greece will benefit," the chairman of Greece's biggest bank said in a Bloomberg TV interview from the lender's Athens headquarters on Thursday.

Greek banks are struggling to contain the fallout from the deepest economic slump since World War II and the biggest sovereign-debt restructuring in history. They have committed to cleaning up their balance sheets through writeoffs, sales and servicing agreements with distressed-debt managers over the next three years.
The success or failure of those efforts will depend on whether the Greek economy will recover, according to Handjinicolaou.
"Even if we use the best innovative system for NPL management, if the Greek economy doesn't perform, that will not allow us to go very far," Handjinicolaou said. "Therefore, for us the biggest concern is where the Greek economy goes."
Piraeus Bank posted a net profit of 14 million euros ($15 million) in the nine months to September, compared with 621 million euros losses in the same period last year. Handjinicolaou said the lender is on track to end the year in the black and meet the targets set by the Bank of Greece for reducing its ratio of non-performing loans.
"We feel very confident that we will meet the objectives that have been set by the central bank and the SSM, well within the 3-year horizon that we are working with," he said. "Our confidence is underpinned by a very detailed examination of the underlying assets, literally on a firm-by-firm basis."

The lender has been run by an interim management team since January due to discord between Piraeus stakeholders. Anthimos Thomopoulos, the chief executive officer backed by Paulson & Co., was forced to step down amid disagreements with chairman Michael Sallas, who has since resigned. Officials representing regulators said Paulson, the biggest private shareholder in the bank, and board officials tied to Sallas have been blocking or undermining nominees backed by the other side.
"We have a task at hand to secure a new CEO which is an important part of the whole effort to improve proper governance standards," Handjinicolaou said. He declined to give a time frame for when the selection process will be completed. "We have outlined our time line to the SSM and the SSM is very confident with it," he said.
— With assistance by Elena Gergen-Constantine
Before it's here, it's on the Bloomberg Terminal.
LEARN MORE