Black Friday Still on Rise in Brazil, No Thanksgiving Required
By
Discounts range from makeup to flights to real estate

E-commerce sales seen climbing 30% from a year earlier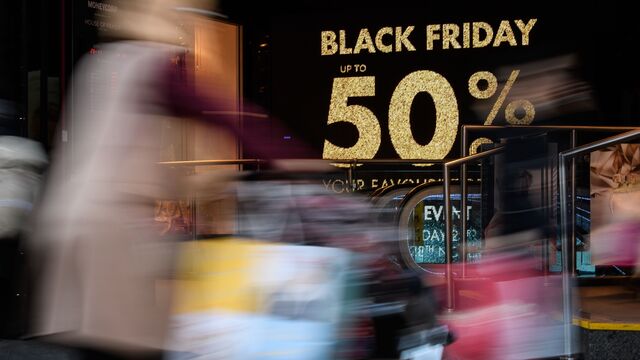 From travel agencies to cosmetics makers to real estate agents, the Black Friday frenzy has taken over Brazil even as the fever cools in the U.S.
Retailers in the South American nation adopted the concept a few years ago of a day filled with attention-getting discounts to start off the holiday season. Brazilians have embraced it, though it falls on a regular weekday there -- the day after the Thanksgiving holiday in the U.S.
Throughout the country, Brazilian retailers advertise their sales with the words "Black Friday" in English. (Some companies have offered discounts all week, referring to them as "Black Friday week" specials.) The rapidly growing acceptance of the promotion is a contrast with the U.S., where retailers have been placing less emphasis on the occasion.
Read more: Black Friday's influence in the U.S. begins to wane
During Black Friday week, CVC Brasil Operadora e Agencia de Viagens SA is offering Sao Paulo residents a weekend in Rio de Janeiro, including air tickets and a one-night hotel stay for as low as 223 reais ($65), and tickets to Rio de Janeiro, Florianopolis and Salvador for as low as 160 reais -- to be paid in six installments.
Natura Cosmeticos SA is offering discounts of up to 50 percent for its beauty products. Lello Imoveis, a Sao Paulo-based real estate brokerage, put 500 properties on sale with discounts of as much as 30 percent through the end of November.
E-commerce monitoring company Ebit expects a 30 percent increase in Black Friday online sales in Brazil to 2.1 billion reais ($615.1 million). Google has seen a 65 percent surge in searches related to the date in Latin America's largest economy, according to Claudia Sciama, who leads the company's retail business in Brazil.
"We are still in a growth curve for the date" in Brazil, Sciama said in a phone interview from Sao Paulo. Stores are using Black Friday to try to beat their sales targets, and Brazilians are making up for long-repressed shopping needs in the country's third year of economic contraction, Sciama said.
"It was a critical year, very complicated for both sellers and buyers," she said.
Around the World
While it originated in the U.S., Black Friday or similar concepts have been used with varying levels of success around the globe. The day has already gone in and out of vogue in the U.K. In Mexico, retailers celebrated the "Buen Fin" -- good weekend -- last Friday through Sunday.
Brazilians get an extra stimulus to shop on the last Friday of November from the payment of the so-called 13th salary -- an additional month's worth of income paid at the end of the year under Brazilian law.
"This year it is over the top," Daniela Bretthauer, an adviser at Eleven Financial, said in a phone interview. "Even when you get into your internet banking website they offer you Black Friday loans, or applications."
Political turmoil overshadowed any cheer from Black Friday in Sao Paulo trading. Cia. Brasileira de Distribuicao, also called Grupo Pao de Acucar, fell 2.1 percent. Retailer Lojas Americanas SA dropped 0.9 percent, and Lojas Renner SA slid 0.4 percent.
While retailers are getting a sales boost, Bretthauer warned that the discounts may bite into the companies' profitability and could cut into revenue that would have been generated next month.
"In some of the previous years the sales were so heavily anticipated that it ended up harming Christmas sales," Bretthauer said.
Before it's here, it's on the Bloomberg Terminal.
LEARN MORE