Turkey Rate Hike Fails to Compensate for Risk as Lira Slides
By and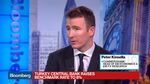 The lira's short-lived rebound after a surprise interest-rate increase sent Turkish policy makers a message: a lot more will be needed to arrest the currency's slump.
Investors are demanding 71 basis points above the benchmark repurchase rate to own lira-denominated assets rather than U.S. dollars even after rate setters in Ankara tightened policy for the first time in almost three years, according to data compiled by Bloomberg. Those who borrow the greenback to invest in Turkey have lost 11 percent in the past six months because of lira depreciation, the worst carry returns in emerging markets.

The Turkish currency resumed a decline within 75 minutes of the central bank's decision Thursday, underscoring its vulnerability to higher bond yields in the U.S. and growing bets for rate increases by the Federal reserve. The nation's inflation, which has remained above the central bank's target since 2011, prompted JPMorgan Chase & Co. to say this week that monetary policy was too loose.
Policy makers raised the one-week repo and overnight lending rates by 50 and 25 basis points to 8 percent and 8.5 percent respectively, surprising economists who had predicted no change. The lira rose on the news, before the rally fizzled out on concern over the central bank's independence and the outcome of a Fed policy meeting Dec. 13-14.
"I doubt this is going to be sufficient to stabilize the lira," said Paul Fage, a senior emerging-market strategist at TD Securities in London. "They gained a bit of credibility by this, but the fact remains that this is not a central bank particularly focused on their inflation target. Whatever they are going to do, it will be too little too late."

The currency's one-month implied yields stood at 8.71 percent. The lira weakened to a record low of 3.4766 against the dollar earlier on Friday and traded 0.1 percent stronger at 3.4416 as of 3:31 p.m. in Istanbul.
Before the latest decision, policy makers had lowered the overnight lending rate by 250 basis points starting March amid political pressure on the bank to take steps to boost the economy. President Recep Tayyip Erdogan said on Wednesday he wanted to see lower borrowing costs in the economy and warned bankers of intervention if they didn't act.
"We have to be realistic that the outlook for the lira is still relatively bearish," said Piotr Matys, a strategist at Rabobank in London. "If the lira continues to weaken in the coming months, then central bank will have to continue with rates hikes."
— With assistance by Stuart Biggs
Before it's here, it's on the Bloomberg Terminal.
LEARN MORE