Singapore Third-Quarter GDP Shrinks Less Than Government Estimated
By
Government forecast non-oil exports to improve in 2017

Export-dependent nation at risk from global trade slowdown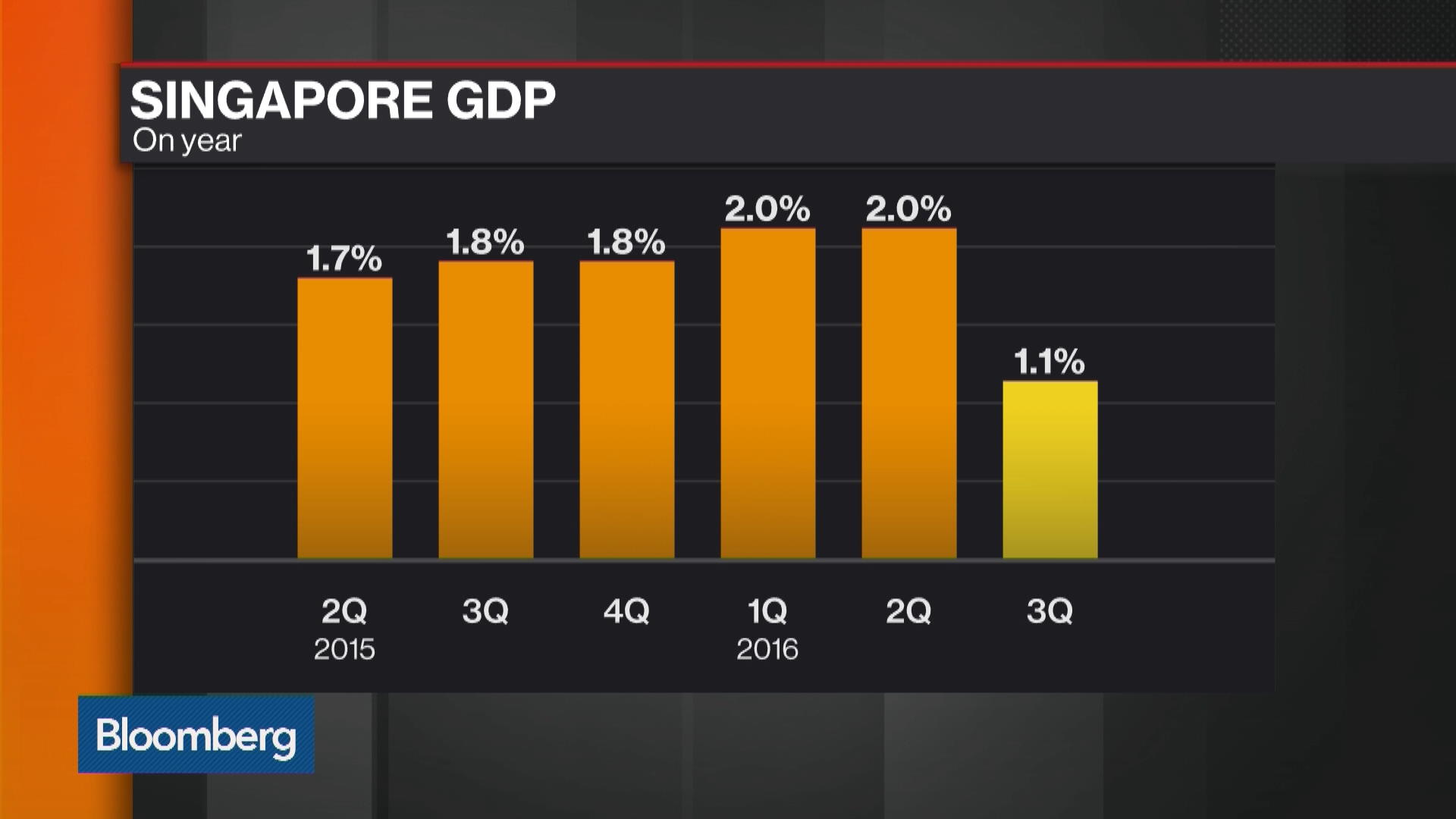 Singapore's government cut the top end of its 2016 growth forecast as exports in the trade-dependent nation remain under pressure, adding that the economy will probably avoid a recession.
Key Points
Gross domestic product fell an annualized 2 percent in the third quarter from the previous three months, according to a revised estimate from the Ministry of Trade and Industry on Thursday; it last month projected a 4.1 percent decline
The median estimate in a Bloomberg survey of 13 economists was for a 2.5 percent drop
The economy grew 1.1 percent from a year earlier, higher than the 1 percent median estimate of 17 economists
Big Picture
Growth in the export-driven economy is under pressure amid a slowdown in global trade and lower energy prices that's hurting the oil and gas services industry. It expanded 2 percent last year, the slowest pace since 2009, and the government forecasts even lower GDP growth this year of 1 percent to 1.5 percent -- down from a previous estimate of as much as 2 percent. That's presented a challenge to the Monetary Authority of Singapore, which kept its policy stance unchanged last month even as it forecast no significant improvement for 2017. The government is estimating growth of 1 percent to 3 percent next year.
Loh Khum Yean, permanent secretary for the Ministry of Trade and Industry, told reporters the economy will probably expand in the fourth quarter. Last quarter's smaller contraction in GDP was mainly due to an upward revision in manufacturing output, he said.

Economist Takeaway
"While growth was better than initially estimated, it doesn't hide the fact that there are significant headwinds to growth that aren't expected to disappear," said Joseph Incalcaterra, Asia-Pacific economist for HSBC Holdings Plc in Hong Kong. "Singapore is most sensitive to trade flows, to global trade growth, and we see risks ahead."
"GDP growth in Singapore is highly volatile," said Krystal Tan of Capital Economics Ltd. in Singapore. "As a result, the third quarter contraction is not on its own a cause for alarm. However, the economy faces a number of headwinds, which suggests any recovery will be disappointing."
Market Reaction
The Singapore dollar fell 0.2 percent to S$1.4344 per U.S. currency as of 9 a.m. in Singapore
Other Details
The services industry, which accounts for about two-thirds of the economy, contracted an annualized 1.3 percent in the third quarter from the previous three months
Manufacturing dropped an annualized 9.1 percent in the period
The government forecast non-oil exports to fall 5.5 percent to 5 percent this year. It sees an improvement in 2017, estimating growth of as much as 1 percent.
— With assistance by Lilian Karunungan, and Myungshin Cho
Before it's here, it's on the Bloomberg Terminal.
LEARN MORE