Seven Wellington Buildings Face Demolition After Earthquakes
By
Stride Property to make decision on Lower Hutt cinema Friday

More than 50 aftershocks exceeding magnitude 5 since Nov. 14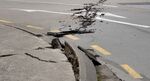 Seven Wellington buildings face demolition in the aftermath of a magnitude 7.8 earthquake and several strong aftershocks that have rocked New Zealand's capital city over the past 11 days.
Event Cinemas Queensgate in nearby Lower Hutt is a safety risk and officials have issued a notice requiring the owner to remove the danger, Hutt City Council said in a statement. Wellington City yesterday said it would demolish three small buildings it owns, and work has begun pulling down a privately owned office tower. A central-city car park building and a suburban apartment block are also likely to be demolished.
The Nov. 14 earthquake, centered in the north of New Zealand's South Island, rocked buildings in Wellington about 300 kilometers (185 miles) away and has been followed by more than 50 aftershocks of magnitude 5 or more. Office blocks used by Statistics New Zealand, Deloitte, Kiwibank, the Defense Force and the Inland Revenue Department are among those shuttered as owners review damage, while in Lower Hutt the Queensgate shopping mall was closed as engineers assessed structural weakness in a car park beneath the cinema complex.
"The likelihood of significant damage in another earthquake is high," Hutt City Chief Executive Officer Tony Stallinger said in the statement. "Our current advice is that the best way to minimize risk to the public is to demolish the building."
The mall is owned by the Diversified NZ Property Trust and managed by Stride Property Group. A decision on demolition will be made later Friday, Stride Chief Executive Officer Peter Alexander told Radio New Zealand.
Other parts of the mall are structurally sound and will reopen today. However, a nearby supermarket and hotel have been evacuated because of the height of the cinema building, and the danger from debris were it to collapse.
Wellington City will pull down two "fragile" brick and masonry buildings it owns in the inner city, which it said could collapse in another strong quake, as well as a third property in the suburb of Karori. Work on the deconstruction of a 10-level block on Molesworth Street is also underway.