Rupee Sinks to Record as Foreign Funds Dump Indian Assets on Fed
By and
Top currency forecaster sees recovery by the end of 2016

Stocks turn volatile as rupee drops amid derivatives expiry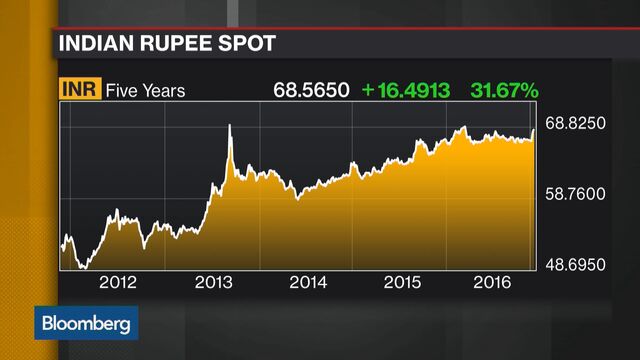 The rupee tumbled to a record low and stocks fell as global funds dumped Indian assets amid rising odds for a U.S. interest-rate increase and a slump in local yields damped the appeal of the nation's debt.
The currency plunged to an unprecedented 68.8650 per dollar Thursday, falling past its previous low of 68.8450 reached on Aug. 28, 2013. It ended 0.3 percent lower at 68.7475 in Mumbai. HDFC Bank Ltd., the top rupee forecaster based on Bloomberg's quarterly rankings, doesn't see the losses sustaining and predicts a recovery to 68.50 by the end of the year, according to Tushar Arora, senior economist for treasury at the lender.
Emerging markets have sold off this month as speculation mounts that Donald Trump's reflationary policies will mean a quicker pace of monetary tightening by the Federal Reserve. Concern that he will take a more protectionist approach to trade has also weighed on developing-nation assets. The immediate target for the rupee would be 69 per dollar in the absence of aggressive intervention by the Reserve Bank of India, Madan Sabnavis, chief economist at Credit Analysis & Research Ltd. in Mumbai, wrote in a note.

The S&P BSE Sensex index of local shares slid 0.7 percent on Thursday, ending a two-day gain. Foreign holdings of Indian government and corporate bonds have dropped by 97.2 billion rupees ($1.4 billion) in November, set for the biggest decline since April 2014, National Securities Depository Ltd. data compiled by Bloomberg show. Overseas investors have withdrawn a net $1.9 billion from stocks.
"Continued outflows along with dollar strength have undermined the rupee," said Gao Qi, a Singapore-based foreign-exchange strategist at Scotiabank. "The rupee may outperform some regional currencies such as the Malaysian ringgit and Indonesian rupiah on account of the central bank's intervention and low foreign position in Indian financial assets."
Read: Intervention Brakes Rupee Near Record as $2.8 Billion Flees
The central bank will take appropriate action to deal with the currency's decline, a government official said earlier Thursday, asking not to be identified, citing rules. State-run lenders sold dollars, probably on behalf of the central bank, as the rupee approached its record low, three Mumbai-based traders said, asking not to be named. The RBI has maintained that it doesn't target a specific rupee level and intervenes only to curb undue volatility in the currency market.

The rupee's previous record low came in 2013 after the Fed's signal to end its unprecedented bond purchases spurred an exodus from emerging markets like India. Its slide this year has tripped fewer alarms as Asia's third-largest economy has since been overhauled, with policy makers succeeding in narrowing the current-account deficit, slowing inflation and building a war chest of foreign-exchange reserves.
The Bloomberg Dollar Spot Index, which tracks the currency against 10 major peers, held gains after rising 0.6 percent Wednesday, when it reached the strongest level since at least 2005. Odds for a rate increase at the U.S. central bank's Dec. 13-14 meeting have reached 100 percent, according to Bloomberg calculations based on futures.
'Less Worrisome'
"The rupee's drop to a record low is much less worrisome this time as it's largely because of the dollar's strength," said Qi of Scotiabank. "Once the global uncertainties disappear, investors will return to India much faster."
Qi forecasts the rupee to rebound to 68 per dollar by the end of 2016.
The Indian currency's 2.9 percent November decline compares with a 6 percent loss for Malaysia's ringgit, the worst in emerging Asia, and a 3.8 percent drop in Indonesia's rupiah. Taiwan's dollar has fallen 1.1 percent, the least in the region, while China's yuan has weakened 2.1 percent.
India boasts of the fastest expansion among the world's major economies. The nation's current-account deficit was $0.3 billion for the April-June quarter, compared with $21.8 billion in the same period in 2013. Foreign-exchange reserves surged to a record $372 billion at the end of September. The hoard has fallen to about $367 billion as of Nov. 11, a sign for some investors that the central bank has been supporting the rupee.
Bonds, Stocks
India's benchmark 10-year sovereign yield fell nine basis points on Thursday. It has plummeted 61 basis points this month, on course for the biggest drop since April 2009, as a banking system awash with cash boosts demand for debt and easing consumer prices raise expectations of more interest-rate cuts.
Read: DSP BlackRock Sees India Yield Bottom Amid World-Beating Rally
Tata Motors Ltd. and Axis Bank Ltd. were the biggest decliners on the Sensex, falling at least 2.6 percent, while Tata Consultancy Services Ltd. led gains among software exporters, rising 1.5 percent. The index has plunged 7.4 percent in November, set for its worst month since February.
The rupee's weakness coincided with the expiry of the monthly derivatives contracts, boosting volatility in equities. The NSE Nifty 50 Index lost 0.8 percent shortly after 1 p.m., only to pare the drop over the next one hour to 0.1 percent. The recovery was short-lived, with the gauge subsequently falling to the day's lowest point shortly before trading ended.
"Foreign exchange-traded funds are selling call options to hedge their portfolio against the decline in the rupee," said Deven Choksey, managing director at K.R. Choksey Shares & Securities Pvt. in Mumbai.
The roll cost, or the price traders pay to replace current month futures with December securities, was at 48 basis points at the close on expiry. That compares with a six-month mean of 60 basis points, data compiled by Bloomberg show. Investors carried over 59 percent of their November contracts, in line with the six-month average, the data show.
Before it's here, it's on the Bloomberg Terminal.
LEARN MORE