EU's Schulz Enters German Fray as Possible Merkel Challenger
By
Social Democrats face choices as Merkel says she'll run again

European Parliament president may get German cabinet post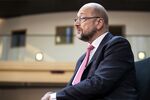 European Parliament President Martin Schulz said he'll vacate his post and run for a lower-house seat in Germany, marking him as one of Chancellor Angela Merkel's potential challengers in next year's election.
Schulz, a Social Democrat, has led the European Union's legislature since 2012 and is a prominent advocate of maintaining the EU. As a senior member of the SPD who's well-known in Germany, he'll be in a strong position as the party prepares to select its candidate for the top of the ticket in January.
Merkel's announcement on Sunday that she'll seek a fourth term in 2017 is spurring the Social Democrats, her junior coalition partner, to consider options. Party leader Sigmar Gabriel, who sits at Merkel's cabinet table as vice chancellor and economy minister, hasn't said whether he'll run for chancellor and Schulz, 60, is a possible alternative.
"More than ever, the world needs a united European Union," Schulz told reporters in Brussels on Thursday. "From now on, I will fight for this project from the national level. Only by doing this will it be possible to regain the lost trust."
Any SPD candidate will have a steep climb against Merkel, whose Christian Democratic-led bloc leads the Social Democrats by as many as 13 percentage points in national polls. Germany is expected to hold its next national election in September.
Strong Voice
Schulz is "a passionate orator" who has "pushed back against the far right" in the European assembly, Ralf Stegner, an SPD vice chairman, was quoted as saying by the Deutsche Presse-Agentur newswire.
For now, Schulz's European experience makes him the likeliest candidate to succeed Foreign Minister Frank-Walter Steinmeier, whom Merkel's coalition has proposed as Germany's next president, a largely ceremonial position. A special assembly will elect the president in February.
Schulz raised the European Parliament's profile from the assembly's two bases in Brussels and Strasbourg, France, leaving a mark on issues ranging from EU ties with Turkey to banking rules. That gave him more bargaining power with the other EU bodies -- the European Commission, the bloc's executive arm, and the European Council, where the 28 national leaders meet to chart Europe's course.
Schulz gained attention in 2003 when Italy's then-Prime Minister Silvio Berlusconi singled him out during a speech to the European Parliament, comparing him with a Nazi concentration camp guard. Schulz had been heckling the Italian premier. 
The multilingual Schulz -- he gave his statement Thursday in German, English and French -- also has deep roots in the German SPD. Trained as a bookseller, Schulz joined the party in 1974 and became mayor of the town of Wuerselen near the Belgian border in his early thirties. He became a member of the European Parliament in 1994.
Schulz is due to step down in mid-January. Under a 2014 power-sharing deal between the European People's Party and the Socialists, the EU Parliament's two biggest groups, Schulz was given an unprecedented second term as president until January 2017 and the post was to be filled by an EPP candidate until the end of the legislative period in mid-2019. 
Schulz strained the accord in recent weeks and months by testing the waters for a third term before announcing his plan to return to German politics. The EPP plans to pick a candidate for EU Parliament president next month.