Hammond Tells Farage Not to 'Hold His Breath' Over U.S. Role
By and
Farage says he'll fight for 'unfinished business' of Brexit

UKIP leader praises 'total' revolution in U.S. politics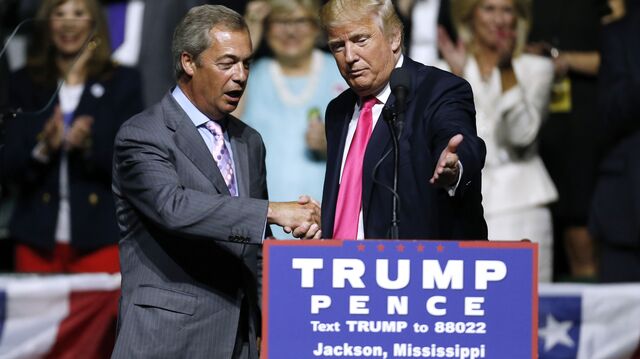 Chancellor of the Exchequer Philip Hammond said U.K. Independence Party leader Nigel Farage shouldn't "hold his breath" in anticipation of a role helping Britain build its relationship with the U.S.
President-elect Donald Trump has said Farage, who celebrated his success in the Brexit referendum with a lavish party at London's Ritz Hotel on Wednesday night, would "do a great job" as British ambassador to the U.S. Farage has said he's willing to serve and posed for photos with a tray of Ferrero Rocher chocolates in a reference to a U.K. television advert that featured the chocolates at diplomatic gatherings.
"It isn't for other countries to decide who we appoint as ambassadors, and if I ever need any advice from Nigel Farage I've got his number and I'll give him a call," Hammond said in an interview with ITV. "Tell him not to hold his breath."
Hammond said Britain already has an "excellent" ambassador to the U.S., Kim Darroch, and he expects the relationship between the two countries to "prosper" under Trump. Farage will fly to Washington in two week for meetings with Trump's team as part of an unofficial diplomatic push, the Daily Telegraph reported on Thursday, citing unnamed people close to the UKIP chief.
"In America the revolution is total: not only have the people spoken and won but the old administration, Obama and all those ghastly people are out and the Trump people are in and they're now in control," Farage said at the Ritz. "The problem we have in this country is that whilst the people have spoken, the same players have just been shuffled around the chess board and we're still being run by the career professional political class."
Farage went on to say that he suspects there will be another "big seismic shock" in British politics, possibly at the next general election, which is due in 2020.
"This is unfinished business," he said. "The people have spoken, but the establishment don't want to listen. There are great battles to be fought and I'm going to go on fighting those battles."
Before it's here, it's on the Bloomberg Terminal.
LEARN MORE