Europe Stock Traders Bet on Calm Even as Currency Swings Rage On
By and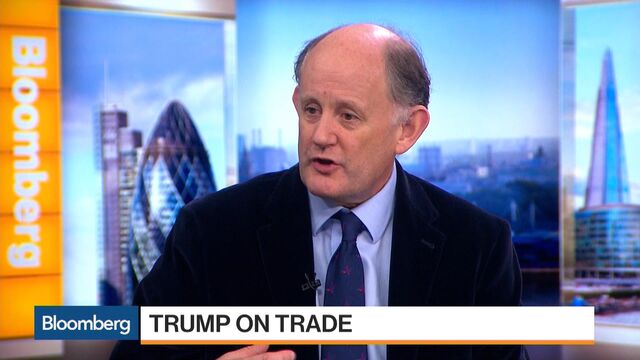 The recent surge in volatility in the currency market has done little to disturb the relative calm that European equity investors are betting on.
While the region's shares rebounded on Thursday, they've moved in a tight trading range for the past few months, just as the euro weakened almost 7 percent against the dollar since August. That's pushing the VStoxx Index measuring expectations for equity swings to a one-year low relative to euro-dollar swings, which reached the highest since June this month.

The weaker euro is failing to boost European stocks as it did last year. Skepticism about the efficiency of central-bank stimulus to spur growth and political risks are at the center of investors' concerns. Following the U.K.'s unexpected vote to leave the European Union, traders are awaiting Italy's constitutional referendum next month and 2017 elections in France and Germany.
"The disparity is due to the fundamental versus speculative approaches," said Ben Kumar, London-based investment manager at Seven Investment Management, which oversees about 10 billion pounds ($12 billion). "If you are a speculative investor, the Euro Stoxx is not an attractive short-term trade at the moment, with reasonably high valuation and good earnings but lots of political risk."
The Euro Stoxx 50 Index trades at 13.2 times estimated profit, a higher multiple than its five-year average. The benchmark added 0.3 percent on Thursday, with the volume of its shares changing hands almost 50 percent lower than the 30-day average as U.S. markets were closed for Thanksgiving.
The euro was little changed against the dollar, after slumping to its lowest since March 2015 on Wednesday amid bets that a U.S. interest-rate increase is imminent. Traders are pricing in a 100 percent chance the Federal Reserve will act next month.
The VStoxx dropped 0.8 percent for a third day of declines. The measure is on track for its biggest monthly slide since July, with the region's equities also heading for a slide. While the Euro Stoxx 50 posted annual gains every year since European Central Bank President Mario Draghi pledged to do whatever it takes to save the euro, it's now poised for its worst annual retreat since the peak of the sovereign-debt crisis in 2011.
European commodity producers climbed for a fourth day, extending their highest prices since June 2015. Among shares active on corporate news, Domino's Pizza Group Plc gained 3.2 percent after raising its projection for the number of stores it expects to operate in the U.K.
Before it's here, it's on the Bloomberg Terminal.
LEARN MORE