Colombia and FARC Rebels Give Peace a Chance -- Again
By
Government signs peace deal with Marxist guerrillas in Bogota

Accord to be ratified by lawmakers next week, Santos says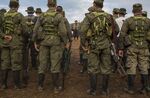 Colombia's government signed a revised peace accord with Marxist guerrillas Thursday, almost eight weeks after the original agreement was rejected by voters. This time round, it won't risk running the deal by the public.
The event in Bogota's Teatro Colon was a briefer and more subdued affair than its predecessor in the Caribbean coastal city of Cartagena two months ago, that included an all-white dress code and a host of international leaders. The deal seeks to end a 52-year civil conflict that has killed more than 200,000 people.
The latest agreement with the Revolutionary Armed Forces of Colombia, or FARC, clarifies an accord rejected by Colombians in an Oct. 2 plebiscite, rather than substantially altering it, and continues to face opposition from key power brokers in the Andean nation. President Juan Manuel Santos has asked Congress, where he has a majority, to approve the modified text, rather than hold a second referendum.
Colombia has "a new opportunity to end the violence," Santos said at today's ceremony. "I expect, according to the established procedure, that the ratification will be approved during the course of next week."
The new agreement makes it explicit that those who confess to serious crimes during Latin America's longest running insurgency may have their liberty restricted to areas not larger than a hamlet for five to eight years. Still, they won't face jail and a post-FARC political party will get 10 automatic congressional seats between 2018 and 2026.
Opponents including former President Alvaro Uribe say it remains too lenient towards the FARC, a rebel group that originally sought better conditions for Colombia's rural poor, but which increasingly funded operations through kidnapping, drug trafficking and the control of illegal gold mine. Wealth and land distribution in Colombia remains highly unequal.
Congress is likely to adopt a "fast track" method to ratify the modified peace agreement, starting the countdown towards FARC demobilization, according to Sandra Borda, the dean of the Social Sciences Department at Bogota's Jorge Tadeo Lozano University.
"Congress has substantial legitimacy, but isn't the optimal scenario represented by a plebiscite," Borda said by phone. "It will give a bitter-sweet taste to the whole debate."
Before it's here, it's on the Bloomberg Terminal.
LEARN MORE