Brexit Delay Bad for Business, Retailer Pets at Home Says
By
Pet-store operator cites consumer confidence, currency effect

Shares slump as company says business has been 'softer'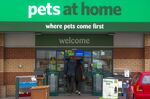 Even Britain's pet shops aren't immune to the consequences of leaving the European Union.
Pets at Home Group Plc, the U.K.'s largest pet-supplies retailer, said Thursday that business conditions could be hurt by prolonged uncertainty over the country's EU exit terms and the continued weakness of sterling.
Brexit indecision "could lead to a slowdown in the U.K. economy and consequent loss of consumer confidence, impacting trading conditions for the group," the Cheshire, England-based company said in a statement. Its shares fell as much as 7.9 percent.
Pets at Home is the latest British business to express concern over the implications of a prolonged EU exit process. Prime Minister Theresa May's plans for formal negotiations have been complicated by a court decision that the U.K. must hold a vote in Parliament before starting the two-year countdown. May has come under pressure domestically and internationally to clarify her Brexit strategy, with companies from advertiser WPP Plc to airline EasyJet Plc citing the negative effects triggered by the uncertainty.

The company said it purchases $50 million to $55 million worth of products from Asia annually. It's hedged for the current fiscal year, but said the cost of doing so would reduce operating profit by about 2 million pounds ($2.5 million).
Reporting an increase in first-half earnings, Pets at Home also said business has been "softer" since the financial period ended Oct. 13.
The shares were down 5.4 percent at 220.9 pence as of 10:37 a.m. in London.
First-half pretax profit rose 3.9 percent to 47 million pounds
Full-year earnings outlook "remains in line with market expectations"
Interim dividend increased 25 percent to 2.5 pence a share