A Proud Stock Exchange Fights for Life in Shadow of Tokyo Giant
By and
Some 99.97% of stock trading now takes place in Japan capital

Fukuoka has just 113 listed companies versus 3,530 in Tokyo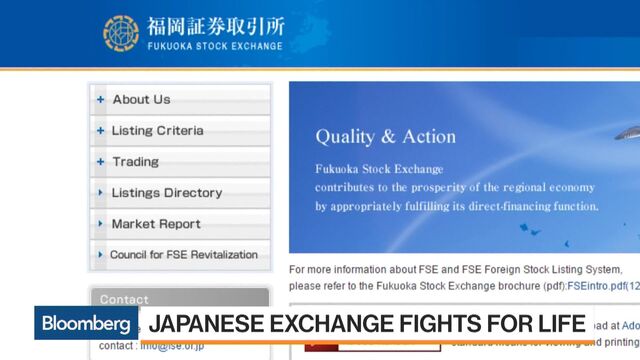 The Fukuoka Stock Exchange occupies part of one floor in a gray eight-story building that it doesn't own.
Its stately but run-down entrance is a reminder of a prosperous bygone era, when the bourse on Japan's southwestern island of Kyushu was home to a bustling trading floor. Now, the traders are long gone, and the two old wooden doors open to face a large black monitor flashing stock prices into the silence.

"When they closed the trading floor, I cried," said Shigeyuki Nishimura, who joined the exchange just after the country's asset bubble burst and before it shifted to electronic trading in 2000. Now 44, he is one of just 20 left working there, fewer than half the number when it opened.
The Fukuoka exchange's decline -- and battle to arrest it -- is a tale that's playing out across the world, especially in the era of electronic trading. It also epitomizes the fading importance of Japan's regions as Tokyo extends its dominance.
In the 1960s, eight provincial cash equity exchanges dotted the archipelago, together handling almost a third of the country's securities trades. Just three remain -- Fukuoka, Nagoya in the country's heartland, and Sapporo on the northern island of Hokkaido. Some 99.97 percent of trading takes place on the Tokyo Stock Exchange.
Falling Listings
Companies listed in Fukuoka have more than halved in the past 16 years to 113, and just 30 of them trade exclusively on that bourse. Some 3,530 firms are listed in Tokyo. A mere $176 million in shares changed hands in Fukuoka last year, versus $6.6 trillion in Tokyo. A 2010 move to allow foreign companies to go public there has led to zero listings, while just three domestic firms did IPOs there last year.
"The regional exchanges started being called insignificant in the 1960s and 70s. Basically, the lack of trading was the issue," says Sadakazu Osaki, head of research at Nomura Research Institute in Tokyo. "Frankly speaking, they're not economically viable."
The Fukuoka bourse dates back to 1949, when Japan was at the start of its U.S.-led postwar plan to reinvent itself as a free-market economy. With infrastructure across the country still devastated from the war -- making it hard to travel to the capital -- the exchange gave local people a way to invest and served as a springboard for regional companies to grow. Because it's closely held, it doesn't disclose earnings.
The provincial bourses still serve a purpose, says Hiroaki Okui, the 77-year-old president of the Fukuoka Stock Exchange. He spoke in an interview when Kyushu Railway Co., the world's third-largest initial public offering this year, listed in Fukuoka a day after debuting in Tokyo. Okui says that for rural economies to prosper, they should have their own financial support mechanisms. That will ensure balanced growth across Japan, not just in Tokyo, he says.
'That's Ridiculous'

"Letting Tokyo become all there is -- that's ridiculous," Okui says. "If you're born in the countryside, you should be raised in the countryside."
Kyushu Railway, also known as JR Kyushu, hasn't traded in Fukuoka since Nov. 18, when it gained 2.7 percent as about 500 shares changed hands. In Tokyo, the stock rose 0.2 percent in morning trading on Friday, with about 855,000 shares traded.
Okui, a proud Fukuokan, says he has unshakable faith his exchange will survive. Frequently lapsing into a strong local dialect, he lists reasons the bourse is still relevant. For one, it doesn't have any high-frequency traders, he said, arguing that makes it easier for ordinary individuals to buy and sell shares. It gives local companies that aren't known in Tokyo a chance to secure financing. And it even trains firms in how to get ready for IPOs, he says. Some 41 companies have taken the training, the exchange's website shows.
The island of Kyushu, where Fukuoka is the largest city, is home to more than 13 million people in an area about the same size as the Netherlands. Its economy is on par with Belgium's, but like the rest of the Japanese countryside, its population is aging and declining.
Elderly Investors

Outside a grand hotel ballroom in Fukuoka, a 140-strong crowd of mostly elderly people flow out of an investor relations conference that the bourse organized. Tamio Nagano, a stocky, tanned man in his 70s with thinning gray hair, wearing what may be an Armani suit, sips water and reflects on his 45 years playing the stock market. While he only holds 11 stocks, he attends about 140 such events a year, all in Fukuoka, suggesting that at the very least, the exchange is giving local seniors something to do.
Foreign investors, who account for more than 70 percent of trading in Tokyo, have limited access to regional bourses. With no direct feed, traders for large investors at Daiwa Securities Group Inc.'s Tokyo headquarters have to hand-write each client order on a piece of paper and time-stamp it before handing it off to another department to process. It's a far cry from using microwave towers to shave a fraction of a microsecond off a trade.
The decline in regional exchanges isn't specific to Japan, and has been going on for many decades. Almost every major commercial city in the U.S. had at least one bourse, according to James J. Angel, an associate professor at Georgetown University. Now the country is "littered with the corpses of dead stock exchanges," Angel wrote in a 1998 report.
Without Us
Okui, however, is far from willing to accept that fate. "Without us, the country will suffer," he said.
The elderly investor Nagano shares the exchange president's pride in Fukuoka. In fact, he says the region should secede from Japan. But when it comes to trading his stocks, he doesn't use the local bourse at all. He prefers online brokerages that divert orders to Tokyo.
"Unfortunately, there just isn't enough volume to get orders through at the prices I want" in Fukuoka, he says. "Sometimes, you have to wait hours for stocks to price."
Before it's here, it's on the Bloomberg Terminal.
LEARN MORE