Your evening briefing
Here are today's top stories.
Bloomberg News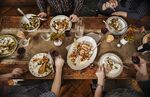 Want to receive this post in your inbox every afternoon? Sign up here.
Thanksgiving is a time of gratitude, a time of reflection, a time to spend with family, friends and loved ones. It is also a time to test the limits of how much your waistband can handle, and a time for good wine. Or cider, beer, and whiskey. Or all of the above.
In the name of turkey, stuffing, and pie, there won't be a newsletter tomorrow, but we'll be back on Friday. To those celebrating, enjoy the holiday. —Megan Hess
Five wines everyone at your Thanksgiving table will enjoy. After a divisive election, you'll need a wine that will not only go with every dish, but also please every guest from twentysomethings to grandparents, whatever their politics. While no "unity" Thanksgiving wine exists, here are five that are sure to satisfy everyone at your table.
What to drink besides wine at Thanksgiving, you ask? Three experts share their choices about what cider, craft beer, and whiskey to serve with the turkey this year.
Finally, cap things off with an after-dinner drink. The foremost expert on bittersweet liqueurs shares his tips on sipping and mixing turkey-day digestifs, settling stomachs disrupted by excessive sweet potato pie and politically incorrect asides.
It's gonna be a long and cold winter, according to one eminent scientist, the father of the "Siberian Snow Theory." He argues that the more snow covering the ground in northern Eurasia, the colder we can expect it down below. And Siberia is looking pretty white already.
Facebook's quest to stop fake news can be a slippery slope. While some articles are obviously fake, like one about the Pope endorsing Trump, many others are misleading, exaggerated or distorted, but contain a kernel of truth. They require judgment calls, and it can be hard to tell where to draw the line, professional fact-checkers say.
Trump would have a hard time divesting his businesses—even if he wanted to. Many of his assets are in real estate, rather than in simple stocks or bonds, while others depend on his involvement for their value. "Trump the brand is very closely intertwined with Trump the man," says Harold Vogel, an expert on entertainment-industry finance.
Beat the Black Friday crowds with Businessweek's 2016 gift guide. It has you covered, whether you want to give just a little something, make a big splash, or simply treat yo self.
Before it's here, it's on the Bloomberg Terminal.
LEARN MORE