politics
Trump Picks Haley for UN Envoy, DeVos for Education Post
By , , and
Latest selections add diversity to president-elect's cabinet

Trump said to offer post of housing secretary to Ben Carson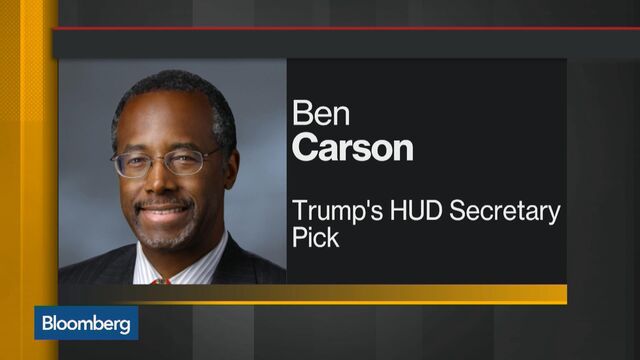 Donald Trump plans to nominate South Carolina Governor Nikki Haley to be United Nations ambassador and Betsy DeVos, an advocate for school choice, to be secretary of education. He also has offered the post of housing secretary to former political rival Ben Carson.
Haley, 44, the daughter of Indian immigrants who was the first woman to be elected governor of South Carolina, was a prominent critic of Trump early in the Republican primary campaign and backed two of his rivals. But she gave her support after he became the Republican nominee even though she admitted she was "not a fan" of either Trump or Democratic Hillary Clinton.
Haley and the president-elect had "a natural chemistry" when they met in the days after the election, Trump spokesman Jason Miller said. "It was a pretty easy pick."
DeVos, 58, has been active in Republican Party politics for decades in her home state of Michigan and in education advocacy. She's chairwoman of the American Federation for Children, which advocates for providing parents with vouchers and tax credits to let them choose between public and private schools for their children. That's been a longtime goal for Republican lawmakers, one that's faced resistance from Democrats and unions representing public school teachers. She's also on the board of directors of the Foundation for Excellence in Education, founded by former Florida Governor Jeb Bush.
In a statement, Trump called her "a brilliant and passionate education advocate." He said her mission will be to "break the bureaucracy that is holding our children back so that we can deliver world-class education and school choice to all families."
Carson, 65, is a retired neurosurgeon who sought the 2016 Republican presidential nomination before becoming an informal adviser to Trump. He's never held elected office. Two people familiar with the matter confirmed that Trump had offered Carson the job, after Carson said Tuesday on Fox News that it was one of several options he would consider over the Thanksgiving holiday.
"I feel that I can make a significant contribution particularly to making our inner cities great for everyone," Carson said in a Facebook posting, adding that "an announcement is forthcoming about my role."
All three choices will be subject to confirmation by the Republican-controlled Senate.
Trump is in Florida for Thanksgiving as he and his team work to fill thousands of administration jobs before his January inauguration. He has already announced his choices for national security adviser, attorney general, and CIA director, while other major posts including secretaries of state, defense and the Treasury remain unfilled.
Limited Experience
Haley has limited foreign policy experience. The daughter of Indian Sikh immigrants, Haley won a seat in South Carolina's House of Representatives in 2004. During her first run for governor, in 2010, she won an endorsement from former vice presidential candidate Sarah Palin. She was re-elected in 2014.
In a statement, Haley said she was accepting Trump's offer out of a "sense of duty."
"When the president believes you have a major contribution to make to the welfare of our nation, and to our nation's standing in the world, that is a calling that's important to heed," she said.
U.K. Reaction
Haley took at least eight trips abroad as governor, including to Germany, Sweden, France, the U.K., Japan, Canada, and India, mostly to attend trade shows and seek economic development opportunities in the automotive and aerospace industries, according to the Post and Courier newspaper, which first reported her nomination.
Matthew Rycroft, the U.K.'s ambassador to the UN, praised Haley in a statement on Wednesday.
"She will bring to the UN a strong track record of achievement from South Carolina, and I know that the U.K.-U.S. relationship will continue to go from strength to strength," Rycroft said.
The governor's national profile rose in 2015, when she had to deal with the aftermath of the killing of nine people at Charleston's historically black Emanuel A.M.E. church in a racially motivated attack. A month later, her decision to support legislation ordering the removal of the Confederate flag from the Statehouse grounds won bipartisan praise nationally, though it was more controversial at home.
'That Flag'
"That flag, while an integral part of our past, does not represent the future," Haley said. "By removing a symbol that divides us, we can move forward as a state in harmony."
Six months later she again took the national spotlight, delivering the Republican response to President Barack Obama's final State of the Union address.
In the 2016 presidential race, Haley supported Florida Senator Marco Rubio and urged Trump to release his tax returns, a move he has yet to make. After Trump tweeted, "The people of South Carolina are embarrassed by Nikki Haley," she responded with a tweet of her own to Trump: "Bless your heart." After Rubio dropped out, Haley switched her support to Senator Ted Cruz.
Haley was born Nimrata Nikki Randhawa in Bamberg, South Carolina, according to her official biography. At 13, her first job was keeping the books for her family's clothing store. She earned a degree in accounting from Clemson University.
UN Role
As U.S. ambassador to the UN, she would have to champion a Trump foreign policy that has at times been enigmatic if not contradictory. Trump has suggested the U.S. should have a better working relationship with Russia to fight terrorism in Syria, said he might recognize Moscow's annexation of Crimea and warned that Washington might not defend NATO allies who don't "pay their fair share."
She would succeed Samantha Power, who won a Pulitzer Prize for a book citing a moral duty to prevent genocide but had to defend before the world body Obama's reluctance to intervene in Syria's deadly civil war.
Richard Gowan, a fellow at the European Council on Foreign Relations, said Haley was a "positive choice" by Trump, adding that her political acumen should help her "win over a lot of diplomats who worry that the U.S. is going to disengage from the UN." Nevertheless, he said she faces "a very tough learning curve," and would have a daunting counterpart in Russian Ambassador to the UN Vitaly Churkin.
"The UN faces extremely volatile situations in cases from Syria to the Congo, and Haley will find herself pitched into some pretty rough crisis diplomacy from day one," Gowan said. "Haley will have to rely on career U.S. diplomats at the UN to help her navigate tough negotiations with Churkin."
Republican Roots
DeVos is a longtime Republican Party donor and activist. She was appointed in 2004 by then-President George W. Bush to the board of the Kennedy Center for the Performing Arts in Washington. She and her husband, Dick DeVos, president of the Windquest Group, donated $22 million to the center's program to train managers and boards of arts institutions, which carries their name.
Like Haley, she backed Rubio in the Republican primary. She and her husband gave $300,000 to a super PAC supporting the Florida senator's run.
After Trump and Vice President-elect Mike Pence met with DeVos in New Jersey on Saturday, their transition office said in a statement that the discussion "was focused on the Common Core mission, and setting higher national standards and promoting the growth of school choice across the nation."
Trump railed against Common Core, a set of education standards adopted in many states aimed at bolstering student proficiency in math and English. DeVos and her husband also have donated to the foundation started by Jeb Bush, who in the past has supported Common Core.
Union Criticism
Public school advocates expressed concern about her appointment. The National Education Association, a union that represents more than 3 million educators including public school teachers and administrators, criticized her support for giving parents vouchers to pay for elementary and secondary education.
"She has lobbied for failed schemes, like vouchers — which take away funding and local control from our public schools — to fund private schools at taxpayers' expense,'' Lily Eskelsen García, NEA's president, said in a statement. "These schemes do nothing to help our most-vulnerable students while they ignore or exacerbate glaring opportunity gaps.''
Trump said earlier this week he was "seriously considering" Carson for the housing post. "He's a greatly talented person who loves people!" Trump tweeted. The people who confirmed Trump's offer did so on condition of anonymity because the move hadn't been formally announced.
Carson said Tuesday on Fox News that "our inner cities are in terrible shape and they definitely need some real attention," noting he'd grown up in one as a native of Detroit. Before running for president, he was a famed motivational speaker and writer.
Raised by a single mother, Carson attended Yale University, where classmates said he was quiet and religious despite the turbulent times at the school.
Carson rose to national prominence for the successful 1987 separation of twins conjoined at the head at the John Hopkins Hospital, and his memoir, "Gifted Hands: The Ben Carson Story," became a movie starring Cuba Gooding Jr.
During his campaign, the soft-spoken Carson faced questions over the accuracy of some parts of his biography, particularly his account of a knife attack on a friend that was stopped by the boy's belt buckle. Trump compared Carson's "pathological temper" to a permanent disposition like child molesting. "You don't cure these people," Trump said on CNN. "You don't cure a child molester."
The Department of Housing and Urban Development could play an important role in Trump's administration, after the Republican president-elect repeatedly pledged in his campaign to address problems plaguing inner-city minority communities. Most of the agency's annual budget of over $37 billion goes to rental and homeless assistance programs across the country.
Policy changes at the agency could have ripple effects across the housing market. Carson could, for instance, roll back Obama administration initiatives that mandated a tenant's criminal history not be a factor in housing, or put new restrictions on how long the federal government offers housing assistance. The department's block-grant programs to underwrite construction of new housing and infrastructure could appeal to Trump, whose family fortune derives from his real estate business.
Carson would also have to grapple with the aftermath of a massive data breach discovered in September that potentially exposed the personal information of more than 425,000 public housing residents. Identifying data, including Social Security numbers and dates of birth, were inadvertently made publicly available on the agency's website.
Trump last week announced he'd chosen Alabama Senator Jeff Sessions for attorney general, Kansas Representative Mike Pompeo for Central Intelligence Agency director, and former Defense Intelligence Agency Director Michael Flynn for national security adviser. He's named Republican National Committee Chairman Reince Priebus his White House chief of staff and campaign CEO Stephen Bannon, formerly of Breitbart News, as his chief strategist and senior counselor.
— With assistance by Justin Sink, and Janet Lorin
(
Updates with Trump statement, background on DeVos, reaction beginning in fifth paragraph.
)
Before it's here, it's on the Bloomberg Terminal.
LEARN MORE