Ralph Branca, Pitcher Who Endured Famous Home Run, Dies at 90
by
Gave up Bobby Thomson's homer in 'shot heard 'round the world'

The Branca-Thomson duel was a momentus moment in baseball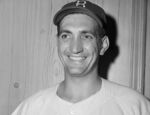 Ralph Branca, the Brooklyn Dodgers pitcher who gave up one of baseball's most momentous home runs and then lived a lesson in sportsmanship, has died. He was 90.
He died Wednesday, according to a Twitter post by his son-in-law, Bobby Valentine, a former Major League baseball player and team manager. No other details were provided.

On Oct. 3, 1951, up 4-2 in the game to decide the National League pennant, Dodgers manager Charlie Dressen summoned Branca to pitch to Bobby Thomson of the New York Giants with one out in the bottom of the ninth inning and two runners on base. The Dodgers were two outs from the World Series.
Instead, Thomson lined Branca's second pitch into the left-field stands at the Polo Grounds, a three-run homer that gave the Giants the pennant.
"All I remember saying to myself was, 'sink, sink, sink,'" Branca later recalled.
Thomson's blow, one of the most famous in baseball history, came to be known as the "shot heard 'round the world.'' It made Thomson, who died in 2010, a baseball legend. For Branca, the losing side of history was a painful place.
''You know, if you kill somebody, they sentence you to life, you serve 20 years and you get paroled,'' Branca told the Associated Press in 1991. ''I've never been paroled.''
Following Thomson's home run, Branca left the Polo Grounds to meet his fiancee, Ann Mulvey, who was accompanied by her cousin, a priest.
'Why Me?'
''Why me?'' Branca asked him. According to Branca, the priest responded: ''Because God knew you could handle it.''
He could, though it took a while.
In 1962, the New York Mets, playing at the Polo Grounds in their inaugural season, invited Branca to pitch to Thomson as part of an old-timers exhibition.
Branca ''dreaded'' appearing at the Polo Grounds and ''seemed sad'' as he walked onto the field, according to a New York Times account. He told the newspaper, ''Nobody remembers that at 21 I won 21 games. Nobody remembers that at 25 I had 75 wins. All they remember is the homer.''
After much deliberation, Branca decided to go through with pitching to Thomson, and on that day in 1962, Branca came out on top. On a 2-2 count, Thomson flied out to short center field.
The two men became good friends starting in the 1970s, appearing at charity golf outings and baseball-card shows. After entering the insurance business, Branca would draw on his own experience from 1951 in motivational talks to sales executives. Branca wrote the afterword for Thomson's memoir, ''The Giants Win the Pennant.''
'Best Friends'
''Funny how some people think we should be mortal enemies for life,'' Branca wrote. ''Yet, in truth, Bobby Thomson is not only a friend, he's one of my best friends.''

In 2001, Wall Street Journal writer Joshua Prager reported that the Giants had utilized a high-tech system at the Polo Grounds to steal the signs of the opposing team's catcher, tipping off their batters to what type of pitch was coming.
Thomson acknowledged that the Giants had such a system but insisted he didn't take advantage of it during his historic at-bat. Branca didn't buy his friend's denial.
''I will always say he had the sign, and he will always say -- well, he can't say it anymore -- that he didn't have the sign," Branca told WFAN radio in New York after Thomson's death. "And I understand his position. It was his moment of glory, and he wanted to live it without any taint on it."
Ralph Theodore Branca was born Jan. 6, 1926, in Mount Vernon, New York, the 15th child of John Branca, a barber and trolley-car conductor, and the former Katherine Berger. Their first two children had died as babies. They had two more children after Ralph.
Impressing Scouts
The family loved baseball and rooted for the Giants, and Ralph started pitching at 10, Prager wrote in his 2006 book on Thomson, Branca and the home run that linked them. Branca impressed Dodgers scouts at a tryout and, at 16, was invited to throw at batting practice at Ebbets Field. A year later the team signed him.
Declared ineligible for military service due to a punctured eardrum and asthma, Branca studied and pitched at New York University until the Dodgers' Branch Rickey signed him to a big-league contract. He pitched 21 games for the Dodgers in 1944.
In his breakout year, 1947, he won 21 games and lost 12. He distinguished himself in another way, as one of the most supportive teammates of Jackie Robinson as he broke baseball's color barrier. In the World Series that year, Branca won a game and lost a game, as the Dodgers lost in seven games to the New York Yankees.
Back Injury
He also pitched in the 1949 World Series, again won by the Yankees. He was named to the National League All-Star team in 1947, 1948 and 1949.
In spring training for the 1952 season, Branca injured his back. He would win only 20 more games over the next five years, retiring in 1956 after stints with the Detroit Tigers, the Yankees and a brief return to the Dodgers.
Branca was a co-founder and the first president of the Baseball Assistance Team, created in 1986 to provide financial assistance to players from the era before lucrative contracts.
With his wife, Ann, Branca had two daughters, Mary and Patti. Mary married Valentine, who was executive producer of the 2013 documentary "Branca's Pitch."
Before it's here, it's on the Bloomberg Terminal.
LEARN MORE