Pro-Brexit Lawmakers Attack Fiscal Watchdog's Gloomy Outlook
By and
'I just don't buy it,' says Conservative Kwasi Kwarteng

OBR will be proved wrong, says anti-EU economist Minford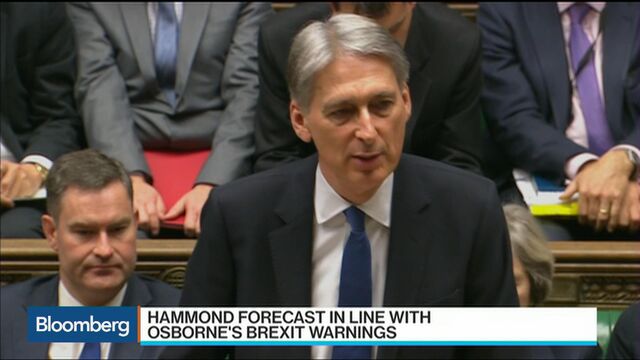 Conservative lawmakers attacked Britain's fiscal watchdog after it warned that leaving the European Union would cost 60 billion pounds ($75 billion) in extra borrowing.
The Office for Budget Responsibility's forecast -- the first official assessment of the costs related to leaving the bloc -- also stated that Brexit would leave Britain with less potential for sustainable growth. Chancellor of the Exchequer Philip Hammond, who presented the forecasts alongside his Autumn Statement Wednesday, said the predictions showed there is an "urgent" need for Britain to tackle its long-term economic weaknesses.
"We've had an endless slew of gloom and doom, and I just don't buy it," said Kwasi Kwarteng, a Tory lawmaker who backed the campaign to leave the EU. "They haven't exactly had a brilliant track record. I'd take their predictions with a pinch of salt."
Follow @Brexit for the latest news, and sign up to our Brexit Bulletin for a daily roundup.
Pro-Brexit lawmakers have been critical of both the OBR and the Treasury for overstating the negative consequences of Brexit. While Hammond made brief references to the opportunities that leaving may bring, his tone was one of caution, with few giveaways and a focus on investing to create a more productive economy that could weather future shocks.
Responding to complaints from pro-Brexit politicians, Hammond said economic forecasting "is not a precise science" and that there are uncertainties not only about Brexit, but also about U.S. policy under Donald Trump, world trade and economic prospects in China.
"The OBR very specifically says in its report that there is an unusually high degree of uncertainty in the forecasts it is making because of the unusual circumstances," Hammond said.
The OBR slashed its 2017 growth forecast to 1.4 percent from 2.2 percent and said borrowing will be 122 billion pounds higher over the next five years than forecast in March, with Brexit directly responsible for almost half that amount. Net debt is forecast to peak at 90 percent of GDP next year as it climbs toward 2 trillion pounds, double the level the Conservatives inherited when they took office in 2010.
In a interview with Sky News on Thursday, Hammond said Britain is able to sustain "a relatively high level of debt because we have credibility with the markets as we've kept public spending under control." While the government is no longer targeting a budget surplus by 2020, the time frame for returning the public finances to balance should only be delayed by a "couple of years," he said.
Autumn Budget
Hammond will have room to respond should shocks to the economy materialize as new fiscal rules leave him 27 billion pounds of leeway. Hammond will deliver two full reviews of tax and spending next year as an annual autumn budget is held for the first time, months after Britain is scheduled to trigger Brexit. The traditional spring budget will be scrapped from 2018 and replaced by a scaled-back fiscal statement.
"It makes sense, given the warning signals coming from the OBR report, to keep a little bit of firepower in the locker, to build a little bit of a reserve, so that if there is a slow down next year we've got enough capacity to support the economy," Hammond told Sky. "The OBR report is the OBR report. My job is to respond to it and prepare the economy for as wide a range of outcomes as I possibly can."
Despite Hammond's predecessor, George Osborne, warning of a recession in the run-up to the June referendum if Britons backed Brexit, the economy has outperformed expectations, with consumers showing no signs of scaling back despite the squeeze from a falling pound and accelerating inflation.
'Consistently Wrong'
"Recent pessimistic economic forecasts have been consistently wrong," said Steve Baker, a member of the House of Commons Treasury Committee who led the Euro-skeptic Conservatives for Britain campaign. "I welcome confirmation there will be no post-vote recession after all."
Former Conservative Finance Minister Nigel Lawson, who campaigned for Brexit, said the OBR's growth outlook is "unduly cautious." The Economists for Brexit group predicted the fiscal watchdog and other forecasters will be proved wrong by events.
"These bodies tried to forecast economic disaster based on uncertainty before, in the months leading up to and just after the referendum, when uncertainty was at its highest," said co-Chair Patrick Minford. "Yet there is no sign that there was any economic effect. So it is illogical in the extreme to forecast further disaster owing to uncertainty, just as the picture is becoming clearer."
Hammond defended the role of the OBR, saying its independence prevents political interference in forecasting.
"Parliament put this independent office in place because Gordon Brown, in his day, used to make his own forecasts of the economy to suit his own story," Hammond said. "Parliament decided that wasn't the right way to do it, and I have to say I rather agree with that."
— With assistance by Thomas Penny
Before it's here, it's on the Bloomberg Terminal.
LEARN MORE