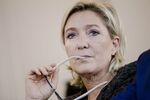 Subscribe to Bloomberg Benchmark on iTunes Podcasts
Subscribe to Bloomberg Benchmark on Pocket Casts
Every week, hosts Dan Moss, Kate Smith and Scott Lanman bring you a jargon-free dive into the stories that drive the global economy.
First came Brexit. Then Trump. Now the world's attention turns once again across the Atlantic to France, where a presidential election is coming up and far-right candidate Marine Le Pen could be the next politician to upend the establishment. The nation is reeling from terror attacks, the economy is in lousy shape, and President Francois Hollande's popularity is dismal. Nicolas Veron, a scholar at think tanks Bruegel and the Peterson Institute for International Economics, joins Scott and Kate to gauge the odds -- and potential impact of -- this next political earthquake.
Before it's here, it's on the Bloomberg Terminal.
LEARN MORE