Lilly's Alzheimer's Disease Drug Fails in Final-Stage Trial
By and
Solanezumab didn't do better than placebo on cognitive tests

Lilly's shares drop 12 percent, Biogen falls 5.9 percent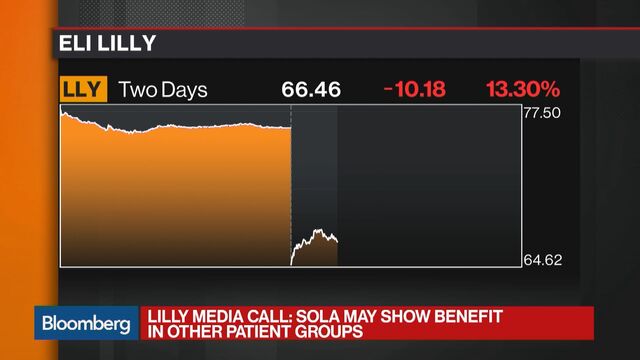 Eli Lilly & Co.'s experimental Alzheimer's treatment failed to slow the progression of the neurodegenerative disease, another setback for drugmakers and researchers trying to develop treatments for one of the world's most feared ailments.
Patients given solanezumab didn't show a meaningful slowing of cognitive decline compared with those who got a placebo, Lilly said in a statement Wednesday. The drugmaker said it wouldn't file for regulatory approval of the medicine and hasn't decided what steps it will take next for trials that are still underway.
The results "were not what we had hoped for and we are disappointed for the millions of people waiting for a potential disease-modifying treatment," John Lechleiter, Lilly's outgoing CEO, said in the statement. "We will evaluate the impact of these results on the development plans for solanezumab and our other Alzheimer's pipeline assets."
The shares fell 12 percent to $66.88 at 10:44 a.m. in New York, after earlier falling as much as 16 percent, biggest intraday decline in 16 years. The news pulled down the shares of other companies that are also developing Alzheimer's drugs, with Biogen Inc. falling 4.8 percent to $302.73 and Merck & Co. slipping less than 1 percent to $61.30.
The dementia-causing disease has grown into the sixth-biggest cause of death in the U.S., killing about 700,000 people annually, and is the only fatal condition among the top 10 in the U.S. that cannot be prevented, cured or slowed, according to the Alzheimer's Association. More than 100 compounds have failed to show they could slow the condition that robs patients of their minds and eventually their ability to care for themselves. Over the last 27 years, Lilly has spent about $3 billion on Alzheimer's studies.
Research Efforts
"Today's news is just a reminder that you have to do the studies," incoming Chief Executive Officer David Ricks said during a conference call. "That's why our business is hard, and it's expensive. But at the end of the day, it's worth it."
The disappointing results make it more critical to step up research efforts, said Maria Carrillo, chief science officer at the Alzheimer's Association. While there are hundreds of studies in advanced stages for treating cancer, there are only about a dozen in Alzheimer's, she said.
"We can't stop now and we can't slow down," she said in a telephone interview. "This is basically a death sentence for those who receive the diagnosis. We need to get answers that will give us some relief."
Lilly will take a $150 million pretax charge, or about 9 cents a share after tax, related to the trial. It plans to announce 2017 guidance on Dec. 15. The company said it's still committed to Alzheimer's, and that it has other compounds it is studying.
Trial Details
Results from the large, final-stage clinical trial, called "Expedition3," showed that patients with mild Alzheimer's who took solanezumab didn't respond better than patients given a placebo on tests of memory and mental function, the Indianapolis-based company said. The drug is designed to latch onto and isolate soluble forms of beta amyloid, the protein that experts believe turns toxic when it forms into clumps between the brain's synapses.
Lilly said that other measures in the trial "directionally favored" the drug compared to placebo, but the differences were small. More data from the trial will be presented next month at a medical meeting in San Diego.
Those details may give investors new insight into Biogen's own Alzheimer's bet, aducanumab, which like solanezumab targets beta amyloid. An early study in 2014 showed that it reduced the protein in the brain and slowed cognitive decline, though later data raised questions about the relationship between the amount of drug taken and its effects. Biogen said Wednesday that it remains committed to its drug.
Other compounds that are designed to more aggressively block the formation of amyloid are in development from companies including Merck, Lilly and AstraZeneca Plc. 
Key Theory
While some observers may consider the Lilly news another blow to the amyloid hypothesis, which posits that the protein deposits that are a hallmark of the disease are also a cause of the condition, others are convinced it remains relevant. It just may be that patients need to start therapy at age 45 or 55, said Sam Gandy, associate director of the Mount Sinai Alzheimer's Disease Research Center in New York.
"I still think amyloid plays a role," Gandy said in a telephone interview. "My concern is it's so early it will be difficult to target unless you have a drug that's perfectly safe. It would mean decades of exposure."
The setback may energize efforts to develop medications that target tau, which forms tangles in the brains of patients with the disease, or combination therapies that reduce both tau and amyloid, Gandy said.
Lilly has spent three decades developing treatments for Alzheimer's disease, persisting in its efforts even as numerous attempts failed. The potential payoff for a medicine that actually slows the progression of the disease, keeping patients out of nursing homes and with their mental abilities intact, is massive. Available medicines that ease symptoms of the disease and generally work for about six months, generate combined annual sales of about $3 billion.
Before it's here, it's on the Bloomberg Terminal.
LEARN MORE