India's Cash-Canceling Experiment
Modi is installing an almost cashless system that will expand banks' deposits.
By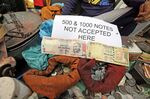 India Prime Minister Narendra Modi stunned the country on Nov. 8 by announcing that 500-rupee ($7.30) and 1,000-rupee notes, which account for more than 85 percent of the money supply, would cease to be legal tender immediately. The announcement set off days of turmoil as millions of Indians tried to swap their suddenly worthless old notes for hard-to-find new notes of 500 and 2,000 rupees or older ones in smaller denominations. On Nov. 17 the central bank tried, with little effect, to reassure the nation that the situation was under control. "There is sufficient supply of notes," the Reserve Bank of India said in a statement. "Members of the public are requested not to panic."
Modi's action is aimed squarely at the cash-driven shadow economy, which accounts for about 25 percent of gross domestic product. Fewer than 5 percent of all Indians file tax returns. Many shop owners use cash for their transactions and don't declare their income. Wealthy Indians often avoid taxes by paying cash for property and jewelry. Those businesses "are where black money is hidden," says Capital Economics economist Shilan Shah. With so much money going untaxed, Indian governments have had difficulty funding infrastructure projects and other public spending.

Tax officials will get reports on cash deposits in excess of 250,000 rupees and compare those deposits with income disclosures. The authorities can demand a tax payment and impose a penalty equal to 200 percent of the tax owed. The government estimates that as much as 5 trillion out of 15 trillion rupees will remain unredeemed as tax evaders unwilling to risk detection accept large losses.
As cash disappears, so does economic activity. For three decades, Ashok Kumar has been a trader at Azadpur Mandi, Delhi's largest fruit and vegetable market, where much of the buying and selling involves the now-banned notes. Since Modi's announcement, Kumar says, cash transactions have nearly stopped. "We are sitting almost idle," he says. "There are no buyers."
On Highway 24 between New Delhi and the town of Dadri, gas stations are empty and trucks stranded. Drivers spend their days playing cards, unable to operate their vehicles because transport company owners can't get the cash to buy fuel or pay the drivers their 100-rupee daily food allowance. "There's no work," says Sundar Singh, a 38-year-old truck driver from Aligarh, a city about 90 miles southeast of Delhi. "I can't even charge my cell phone," he says, because he doesn't have any change. To ease some of the pain, the Finance Ministry on Nov. 21 said farmers could use old 500-rupee notes to buy seeds for winter-sown crops from state-owned stores.
Modi has been trying to follow through on promises to attack the shadow economy since he took office in 2014, with mixed results. An offer of amnesty for repatriated funds last year led to declarations of only about 25 billion rupees in tax—20 rupees per person. A separate amnesty that ended in September prompted the declaration of 652.5 billion rupees—about 0.5 percent of GDP, or 500 rupees per capita.
Modi is risking a temporary economic setback from demonetization. Until the Nov. 8 announcement, GDP was on track to increase 7.7 percent this year, and the government had achieved some important goals in its drive to improve business conditions. HSBC said in a Nov. 16 report that the economy could lose 0.7 to 1 percentage point of growth over a year. "It's going to be very disruptive," says Diksha Gera, an analyst with Bloomberg Intelligence in Singapore, who expects consumers to postpone spending on big-ticket items such as refrigerators and washing machines, as well as discretionary purchases like expensive apparel. "All of that will definitely take a hit," she says.

Gera says the pain may be short-lived. The attack on underground money will increase bank deposits by as much as 2 percent of GDP, according to Bank of America Merrill Lynch. Deposits swelled by 5.1 trillion rupees from Nov. 10 to Nov. 18. Because banks are getting a surge in deposits, Finance Minister Arun Jaitley said on Nov. 18, they're better positioned to spur economic growth by making more loans. Modi's currency reform may also lead to an increase in the use of electronic payment systems. The prime minister's action "is a critical step in positioning India to be a leader in the global cashless and digital economy," Porush Singh, Mastercard's president for South Asia, said in a statement.
In addition to legislative victories such as the approval of long-delayed tax reform and a new bankruptcy law, Modi this year eased restrictions on foreign investment in industries like pharmaceuticals, aviation, and defense. Unlike the previous government, his administration has been free of major scandals. The prime minister has been lucky, too: Thanks to low global oil prices, inflationary pressure has subsided, and after two years of drought, better rainfall this year has helped farmers. The central bank has cut the benchmark interest rate to its lowest point in five years.
Modi said on Nov. 13 that the government will take more steps to curb tax evasion, including purchases of property investors make in the name of a third party. There are plenty more targets for his campaign against the underground economy. "I don't think it will stop here," says Capital Economics' Shah.
 
—With Vrishti Beniwal, Archana Chaudhary, and Pratik Parija
The bottom line: Modi is trying to end tax evasion and impose a tax-compliant, above-board economy at all levels.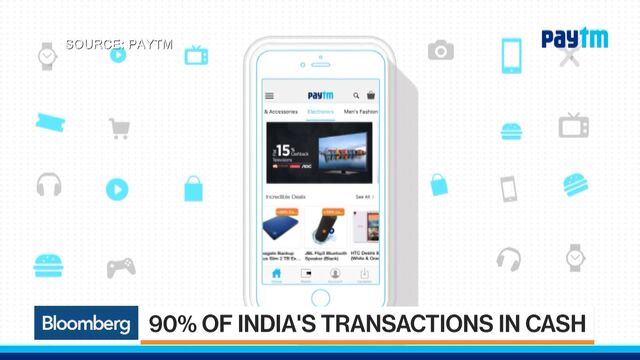 Before it's here, it's on the Bloomberg Terminal.
LEARN MORE