Hammond Forecast in Line With Osborne's 'Brazen' Brexit Warnings
by
OBR forecasts show deterioration of about 30 billion pounds

Osborne was accused of 'financial terrorism' during campaign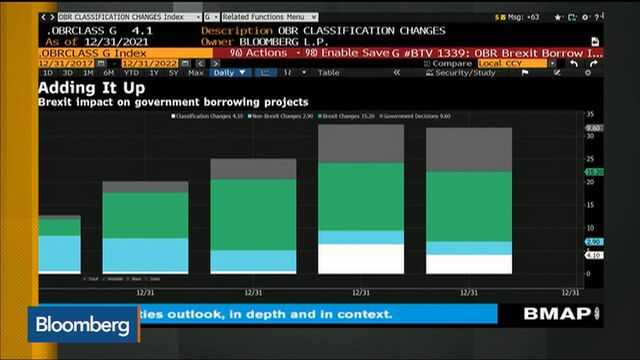 The projected "black hole" in Britain's finances as a result of the Brexit vote is roughly in line with projections made by George Osborne a week before the referendum and denounced as a "brazen smear" by campaigners to leave the European Union.
The then chancellor of the exchequer, sharing a stage with his Labour predecessor Alistair Darling, said on June 15 the public finances would take a 30 billion-pound ($37 billion) hit if Britain voted to leave. The Office for Budget Responsibility projects the U.K. will have to borrow 21.9 billion pounds in 2020, compared with the 10.4 billion-pound surplus predicted in March.
"Brexit will not lead to a black hole in the budget. Of all the absurd smears and scare stories produced by the 'Remain' campaign, this is the most brazen," the Leave.EU campaign said in a statement after Osborne's intervention. "By stooping to these new depths of disinformation and, frankly, financial terrorism, he risks shaking consumer confidence, undermining the economy and even undermining our democracy."
The OBR forecasts published Wednesday suggest borrowing of 13.6 billion pounds would still be needed in 2019-20 even before Chancellor of the Exchequer Philip Hammond's new spending commitments are taken into account.
'Punishment Budget'
Osborne warned in June that there would have to be spending cuts and tax rises to deal with the shortfall. In what was described in the pro-Brexit press as a "punishment budget," he said measures needed might include a 2 percent rise in the basic rate of income tax to 22 percent, a 5 percent increase in alcohol duty and a hike in inheritance tax.
Tim Farron, the leader of the Liberal Democrats, said in September that Brexit voters he'd spoken to had told him that Osborne's speech and the reaction to it had persuaded them to vote to leave.
"There was near-universal acknowledgement that this had been the pivotal moment," Farron said in a speech to his party's conference. "Here was this guy, George Osborne, who they didn't really like, and who they felt didn't really like them, and he'd appeared on the telly bullying them into doing something they weren't sure they wanted to do. And they reacted."
Hammond said Wednesday there will need to be an extra 122 billion pounds in borrowing by 2020-21 compared with forecasts published in March. OBR projections estimate that almost half of that amount, or 58.7 billion pounds, will be due to the decision to leave the bloc.
Before it's here, it's on the Bloomberg Terminal.
LEARN MORE