markets
ECB Bond Lending to Spur Liquidity But May Not Ease Repo Squeeze
By and
Collateral-rule changes needed to help repo market: Rabobank

German two-year note yields rise from record in global selloff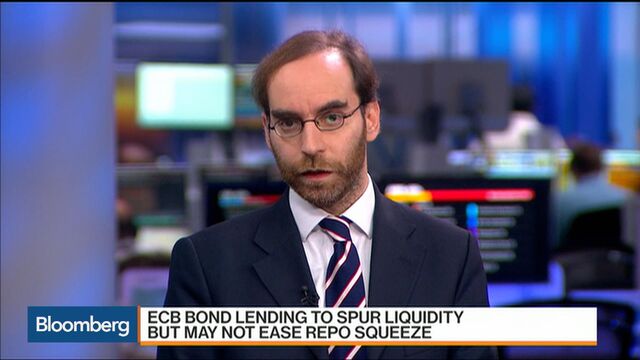 The European Central Bank's plan to lend out securities is more likely to boost bond-market liquidity than reduce shortages in the repurchase market caused by the central bank's debt buying program.
This is because the policy maker accepts only bonds as collateral rather than other assets, such as cash, strategists say.
"Unless they open up collateral, it wouldn't change anything in the repo market," said Lyn Graham-Taylor, a London-based senior rates strategist at Rabobank. "Whether they accept any other assets, or cash, changes the game."
German two-year note yields rebounded from a record low after Reuters reported that the ECB is looking for ways to make it easier for banks to borrow bonds it's bought so they can be used as collateral for repurchase agreements. An ECB spokesman confirmed its securities-lending program is being reviewed on an ongoing basis. Repos are a vital part of the financial market's plumbing that's been hit recently by a shortage of securities.

While "in theory liquidity should improve, Graham-Taylor said that in practice national central banks, like Germany's Bundesbank, which control their own securities lending facility, may not relax rules in line with the ECB.
Currently, the ECB lends securities at a fixed fee of 0.3 percentage point, or the market rate, whichever is higher. Each counterpart, may borrow up to 2.5 percent of the amount outstanding of a single issue, with a maximum of 200 million euros for any such issue, subject to availability.
Antoine Bouvet, a rates strategist at Mizuho International Plc in London, said it's "difficult to read too much into" the news without elaboration from the Frankfurt-based institution.
The ECB would need to "actively make sure there's going to be more liquidity in the repo market, either by just lending the bonds at a cheaper rate or being more flexible on the maturity of the bonds," Bouver said. "Unless we get a confirmation of that, I don't think the market will get carried away."
The availability of securities for use as repo collateral has been hurt by the ECB's quantitative-easing program, under which the institution has purchased debt to free up cash with the aim of boosting the economy. Wednesday's report couldn't stop German bunds from being pulled lower in a global debt selloff, with the nation's two-year note yield rebounding from a record low.
The two-year German yield rose three basis points, or 0.03 percentage point, to minus 0.70 percent as of the 5 p.m. London-time close, after touching an all-time low of minus 0.744 percent earlier in the day.
"ECB is very cognizant of the fact that bond buying has created a market squeeze which is distorting the market," said Mohit Kumar, the London-based head of rates strategy at Credit Agricole SA's corporate- and investment-banking unit. "Whether the ECB will actually be able to ease liquidity issues remains to be seen, but it's definitely a positive step that they're ready to take steps to address it."
— With assistance by Stephen Spratt, Lukanyo Mnyanda, and Alex Harris
Before it's here, it's on the Bloomberg Terminal.
LEARN MORE