Chinese Billionaire Says Trump Unlikely to Start Trade War With China
Bloomberg News
Chairman Guo says common interests to prevent trade war

China had been among Trump's campaign targets in past year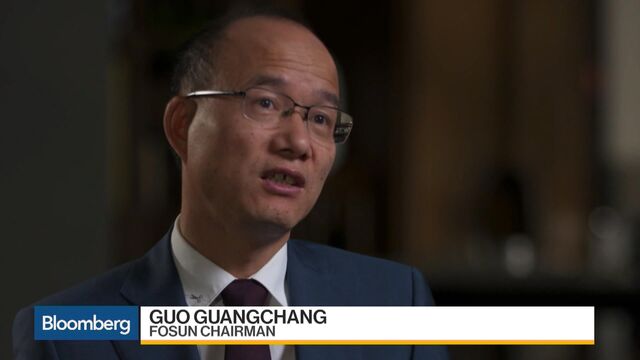 The billionaire heading one of China's most acquisitive companies said President-elect Donald Trump is unlikely to follow through on his protectionist pledges, in the latest sign that Chinese tycoons are betting against the likelihood of the world's two largest economies colliding.
Fosun Group, owner of Wall Street's 28 Liberty building, will continue to invest in the U.S. and Trump won't be able to engage in a trade war with China because of the common interests between the two countries, Chairman Guo Guangchang said in a Bloomberg Television interview airing on Thursday. Just as in past elections, the president-elect will probably move away from some of his campaign pledges and adjust his message, Guo said.
"I'm actually optimistic about the changes a businessman-turned president will bring to America," Guo said. "I believe the leaders of both countries are smart enough they'll find the best way to cooperate."
The tycoon's comments help illustrate how, after being on the receiving end of more than a year's worth of Trump's threats -- from branding China a currency manipulator to slapping their products with 45 percent tariffs -- Chinese business leaders are moving on from his campaign rhetoric. Last week, burgeoning Hollywood mogul Wang Jianlin said he's not worried about the election results and extended his "warm congratulations" to Trump.
Vulnerable China
China, which raked in a $208 billion trade surplus with the U.S. during the first 10 months of the year, would stand to compound its challenges should America turn more protectionist. Authorities in Asia's largest economy are trying to deflate a bubble in the property market without aggravating the rise in bad loans, reform unproductive state-owned enterprises as well as cajole private businesses to accelerate their investment spending.
Guo said bad loans may still be on the rise for the next one to two years amid lingering gluts in industries such as steel and coal. Still, China will probably maintain 6 percent annual growth for the next five to 10 years, he said.
As to Trump, he's already showing signs of abandoning some campaign pledges, signaling in an interview with the New York Times that he has no intention to investigate or prosecute his campaign opponent, Hillary Clinton, over her use of private e-mail as secretary of state or her family's foundation after he's inaugurated in January.
Guo, a 49-year-old self-made billionaire, said Trump's background as an entrepreneur will also serve as a deterrent to fighting with China.
"Trump himself is a businessman,"  said Guo, who has a fortune estimated at $4.6 billion by the Bloomberg Billionaires Index. "Businessmen follow the rule of maximizing profit through negotiations."
Scrutinizing China
Fosun, which owns Club Med and Cirque du Soleil, has much at stake in the U.S., where the group has struck over $4 billion worth of deals, including the $2.1 billion takeover of insurer Ironshore Inc., according to data complied by Bloomberg. The Chinese conglomerate has also invested in Meadowbrook Insurance Group, Hollywood producer Studio 8 Inc., the St. John clothing label and the biopharmaceutical firm Ambrx Inc.
Chinese companies have come under scrutiny for buying U.S. assets. The U.S.-China Economic Security Review Commission recently recommended in its annual report to Congress that Chinese state-owned companies should be barred from buying American firms. A bipartisan group of legislators earlier this year also called for Congress to tighten scrutiny over Chinese investments.
And even if Trump were to go through with some of his campaign promises -- he reaffirmed on Monday the U.S. will withdraw from the 12-nation Trans-Pacific Partnership trade deal -- there are too many checks and balances in the U.S. system for him to carry out his threats against China, Guo said.
"I don't think a president is free to do whatever he wants," he said.
— With assistance by Jing Yang De Morel
Before it's here, it's on the Bloomberg Terminal.
LEARN MORE