Fannie Mae, Freddie Mac Will Back Even Bigger Mortgages
By and
Jumbo mortgage threshold rises to $424,100 for most of U.S.

Change will help first-time buyers, Realtors and brokers Say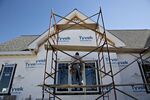 The definition of a jumbo mortgage is changing for the first time in more than a decade.
Fannie Mae and Freddie Mac in 2017 will back mortgages of up to $424,100 in most of the U.S., an increase from $417,000, the Federal Housing Finance Agency said Wednesday. The change, which will increase the limit for areas with the most expensive homes to $636,150 from $625,500, comes after home prices in the third quarter pushed past their level of a decade ago.
The increases in the so-called conforming loan limits could make it much easier and cheaper for some first-time homebuyers to enter the market, as the down payment and credit requirements for government-backed mortgages are often looser than those of jumbos.
"It reflects that health is finally returning to the market," said Ken Fears, director of housing finance and regional economics for the National Association of Realtors. "But to a greater extent, it reflects an opportunity for a true expansion of credit."
Record High
U.S. median home prices reached a record high in June at $247,600, up 7.9 percent from June 2006, according to National Association of Realtors data. Prices bottomed after the mortgage-market crash at $154,600 in 2011.
Earlier on Wednesday, the FHFA said its own home-price index, which it uses to set loan limits, showed values rising 6.1 percent in the third quarter from a year earlier.
Fannie Mae and Freddie Mac buy mortgages from lenders, package them into securities and guarantee to investors the repayment of principal and interest. That process helps make inexpensive 30-year mortgages widely available in the U.S.
The two companies for the past decade have only bought loans with balances of up to $417,000, except in high-cost areas which in 2016 had limits of up to $625,500.
Higher Rates
The threshold is important to homebuyers and the real estate industry. Jumbo mortgages sometimes have higher rates than loans that qualify for government backing, though lately that hasn't been the case. Wells Fargo & Co., for example, on its website Wednesday quoted a 30-year fixed mortgage rate of 4.25 percent, while it quoted a rate of 4 percent for a jumbo loan.
More important, jumbo mortgages often carry steeper requirements from lenders, such as higher credit scores or down payments of 15 percent to 20 percent.
Phil Ganz, a Boston-based loan officer with Fairway Mortgage, said many first-time buyers are shut out of the market because the houses they want to buy are too expensive to qualify for government-backed mortgages. The limit for Suffolk County, Massachusetts, in 2017 will rise to $598,000 from $523,250, the FHFA said Wednesday. The FHFA can set loan limits for individual counties in between the lower and upper thresholds depending on their cost.
Many potential homebuyers have decent incomes but can't come up with more than 3 percent for a down payment, he said.
"When you raise the limits, it's about giving young, successful people the chance to get in the game," Ganz said.
The increase could bring a negative reaction from some Republicans who say the government should have a smaller footprint in the mortgage market. According to trade publication Inside Mortgage Finance, about 71 percent of new mortgages are backed by the government.
The FHFA's announcement should lead a government loan program with even looser borrower requirements to raise its own loan limits, Fears said. The Federal Housing Administration typically sets its own loan limit as 65 percent of the Fannie Mae-Freddie Mac limit, which would mean a rise to $275,665 from $271,050. The FHA allows borrowers to make down payments of as low as 3.5 percent with a credit score of 580.
Still, "given that this isn't a huge increase, I don't think there will be a big hue and cry about the government increasing their share," Inside Mortgage Finance publisher Guy Cecala said Wednesday.
Before it's here, it's on the Bloomberg Terminal.
LEARN MORE