China City With Economic Woes Pitches Revival to Bond Buyers
Bloomberg News
Tieling economy that shrank 6.2% in 2015 to recover: official

'Issuers will likely have to pay higher premiums,' Lau says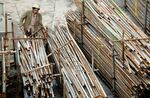 The city that shrank the most in China's worst-performing province in 2015 has a pitch for dollar bond investors: Things are looking up.
A local-government financing vehicle in Tieling, home to 3 million people in the northeastern province of Liaoning, plans to raise $200 million, partly to expand into finance businesses including leasing, a company official who asked not to be identified said last week. The funding unit's core business hasn't suffered from the slowing economy, and growth will recover next year, according to the person. Official data show the city's economy shrank 6.2 percent last year.
Financing units for China's provinces, cities and towns are increasingly looking overseas amid a tightening of local funding channels, with bond issuance from junk-rated firms jumping 56 percent from October to $860 million this month. Fund managers hunting yield are weighing the risks after the Ministry of Finance reiterated on Nov. 4 that local governments aren't responsible for debt owed by their funding arms.
"As we are seeing many more risky LGFVs tapping the offshore bond market in recent months, investors are definitely getting more cautious," said Chaksum Lau, assistant portfolio manager at China Securities International Asset Management Co. in Hong Kong. "Issuers will likely have to pay higher premiums."

Liaoning contracted 1 percent in the second quarter compared with 6.7 percent expansion for China's economy overall, as Premier Li Keqiang reined in heavy industries including steel mills and coal mines. Financing vehicles in the province sold 4.4 billion yuan of onshore bonds in the third quarter, down 43 percent from the year earlier. China's cabinet announced guidelines to support northeastern provinces this month, including fundraising priority.
READ: Ground Zero of China's Slowdown Leaves Locals Looking for Exit
The financing unit, Tieling Public Asset Investment and Management Co., has issued two notes in the local private placement market this year. The company official said its core infrastructure business, including gas and electricity, hasn't been impacted by the regional slowdown.
"Presumably the weaker provincial governments are still benefiting from some level of assumed central government support," said Jim Veneau, head of fixed income Asia for AXA Investment Managers Asia Ltd. Even so, he added, there are "risks related to the level of transparency investors receive regarding the true extent of financial resources and liabilities of the provincial government."
Repayment ability is also clouded after the yuan weakened 6.2 percent against the greenback this year.
"We could see the yuan depreciate, adding further stress on the ability for these weaker LGFVs to service offshore debt," said Todd Schubert, head of fixed-income research at Bank of Singapore, the private banking unit of Oversea-Chinese Banking Corp. "Investors rely to a large extent on local governments to provide support in times of stress."
S&P Global Ratings said in a Nov. 8 report China is signaling there won't be direct bailouts of LGFVs. A State Council plan issued earlier this month called on authorities to report probable repayment difficulties at least two months in advance.
"The message is clear," said Leo Hu, emerging-market debt portfolio manager at NN Investment Partners in Singapore. When financing units have limited potential to cause systemic shocks, "local governments should let them resolve repayment issues in a market-oriented way," he said.
— With assistance by Lianting Tu, Carrie Hong, Judy Chen, Xiaoqing Pi, and Yuling Yang
Before it's here, it's on the Bloomberg Terminal.
LEARN MORE