Brexit Bulletin: Hammond Reveals the Cost of Brexit
Did Hammond spread the jam, or just disappoint the JAMs?
By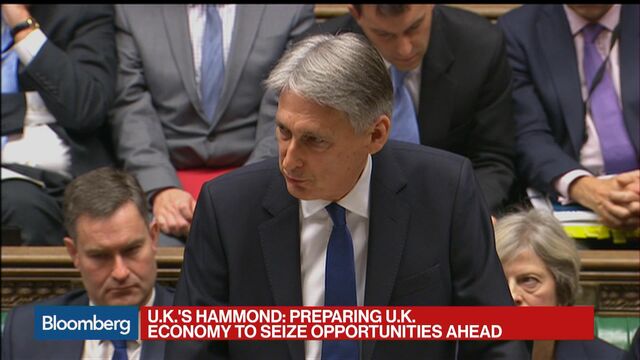 Sign up to receive the Brexit Bulletin in your inbox, and follow @Brexit on Twitter.
Chancellor of the Exchequer Philip Hammond today revealed the cost of Brexit to the public purse.
Delivering his first overhaul of fiscal policy since he took office in July, Hammond said the Treasury will borrow an extra £122 billion ($151 billion) over five years as slower economic growth hits tax revenues.

While he did speak of the need to pursue fiscal discipline, he said the U.K. budget deficit will no longer be closed in the current parliament.
The independent watchdog Office for Budget Responsibility also forecast Britain's economy will expand 1.4 percent next year, a drop from the 2.2 percent predicted in March, before the Brexit referendum. The OBR also said leaving the European Union may wipe 2.4 percentage points off the economy's potential growth rate.

Despite the squeeze, Hammond found £23 billion to spend on infrastructure and innovation and also some cash for those whom Prime Minister Theresa May has described as "just about managing" to make ends meet.
The so-called "JAMs" were on his mind as he announced a £1.4 billion pound boost to affordable housing, an increase in the minimum wage and a reduction in how quickly some benefit payments fall away. 

With 52 percent of voters opting for Brexit in June, these are the kind of policies the government hopes will begin to share Britain's prosperity more equally, with an eye on those who feel burned by globalization and the aftermath of the 2008 financial crisis.
Brexit Camp Doubtful 
One political test for Hammond is whether he did enough to persuade the pro-Brexit lobby he is really on their side.
The chancellor's recent warnings of "sharp challenges" for the economy and "a degree of uncertainty" for businesses have left critics complaining that he is undermining the case for leaving the European Union and risks hurting confidence in the economy.
Although the Office for Budget Responsibility did the sums, the weaker outlook for 2017 and for long-term growth may be used to criticize him.
"A lot of people are increasingly dissatisfied with Hammond's negative tone," said Patrick Minford of Cardiff Business School, one of the few economists to campaign for Brexit. 
Lawmaker John Redwood may be disappointed by the reductions in the growth forecast given he saw "no reason" to make such downgrades.
Hammond is already viewed suspiciously by those who pushed hardest for withdrawal, according to Bloomberg's Svenja O'Donnell. He has defended membership of the EU customs union, promoted trade when others were prioritizing immigration controls and defended Bank of England Governor Mark Carney.
Boost for EU
Britain's decision to leave the EU may have done more for the bloc's standing than anything its politicians have done.
A report this week by German think tank Bertelsmann Stiftung found that people in five out of the six largest EU countries, including the U.K., were now more positive about the region.
That suggests that Europe's own populists – such as France's Marine Le Pen – may not ride the wave of anti-elitist sentiment that led to ballot-box successes for Brexit and Donald Trump, Bloomberg's Marc Champion reports.

Brexit Bullets
On the Markets
Gilts plunged as planned issuance rose, while the pound pared its decline after Hammond detailed his new spending measures.  Estate agent Foxtons saw its stock fall by 10 percent after the chancellor scrapped letting fees.
And Finally...
Animosity between Prime Minister Theresa May and interim U.K. Independence Party leader Nigel Farage may have its roots in an Italian restaurant 80 miles from London. In April 2015 Farage was snubbed by May's most senior aide, Nick Timothy, ahead of the U.K.'s general election.
Bloomberg's Tim Ross has more details, even as U.S. President Donald Trump tries to persuade May to overcome her resistance and name Farage as her ambassador to Washington. 
"Theresa May is in a terribly awkward position," said Tim Bale, professor of politics at Queen Mary University of London. "She needs as many links with Donald Trump as she can get, but Farage is a pretty toxic link and probably not one she really wants to play with."
For more on Brexit follow Bloomberg on Twitter, Facebook and Instagram, and see our full coverage at Bloomberg.com
Before it's here, it's on the Bloomberg Terminal.
LEARN MORE