BOE's Forbes Says Uncertainty Dragging Less on Economy Than Past
By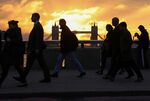 The U.K. economy is proving unexpectedly resilient to uncertainty, according to Bank of England policy maker Kristin Forbes.
Unease arising from Britons' vote to leave the European Union has had less of a damping effect than would be traditionally expected by economists because credit conditions have not tightened sharply, Forbes said in a speech in London on Wednesday. She also said other factors -- such as heightened media attention and wide growth forecast ranges -- have had a smaller impact.

"The strength of the U.K. economy during the period of heightened uncertainty before and after the referendum on EU membership suggests that uncertainty is dragging less on growth than has traditionally occurred," Forbes said. "There is much uncertainty about uncertainty."
Even so, the central bank remains vigilant to future risks as Britain moves toward its negotiations to exit the EU. Firms are already indicating that they are delaying business investment and there is a lagged feed-through to weaker wages and productivity growth, Forbes said.
The BOE's Monetary Policy Committee has faced criticism this year for its response to the Brexit vote, with some arguing that policy makers overstated the risks of an exit and overreacted by loosening policy in August. Blaming the "whipping boy" of uncertainty may be causing people to miss other things happening in the economy, Forbes said.
Forbes, who voted against some of the measures, said central banks are used to operating in an environment of uncertainty and there is no need to change their approach to monetary policy.
"Even though heightened uncertainty has recently appeared to have less effect on the U.K. economy than expected, that does not mean that it has had no effect, or will have no effect in the future," she said. "The MPC will continually be assessing the effects of uncertainty. We will also do what we can to reduce uncertainty when possible."
— With assistance by John Ainger
Before it's here, it's on the Bloomberg Terminal.
LEARN MORE