markets
BBVA Pursues Acquisitions in Argentina as Market Consolidates
By and
May bid for Patagonia if Banco do Brasil sells, local CEO says

Spanish bank looking to boost retail, small-business presence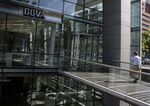 Banco Bilbao Vizcaya Argentaria SA is seeking acquisitions in Argentina, with an eye on Banco Patagonia SA in case Banco do Brasil SA decides to sell, as the banking sector in South America's second-largest economy is poised to consolidate.
"There's no doubt that their operations are perfectly compatible with ours," Martin Zarich, chief executive officer of Argentine unit BBVA Banco Frances SA, said of Patagonia. "We will look at them in detail, which we haven't yet because it's not confirmed that the deal is on the table."
Patagonia, Banco do Brasil's Argentina unit, has a market value of about $1.8 billion, and is an appealing target in a financial system that has over 70 institutions and is expected to double its penetration from current 13 percent.
Banco do Brasil, the biggest bank by assets in Latin America, hired JPMorgan Chase & Co. to help it sell the unit, a person familiar with the matter said in August. The 58.6 percent stake would go to strategic investors, or shares could be sold in a public offering, the person said at the time. Banco do Brasil, with total assets of 1.5 trillion reais ($428 billion), needs to raise capital to offset deepening losses from bad loans.
BBVA will concentrate on acquisitions to boost the bank's retail clients, and small and medium enterprises, Zarich said.
"We would not look at targets focused in the Treasury sector," he said. "Other than that, we will sign up for all the opportunities that make strategic sense for our growth."
Before it's here, it's on the Bloomberg Terminal.
LEARN MORE