Amaya Founder Says Dubai Backer Didn't Commit to Financing
By
David Baazov says he intends to find replacement financing

KBC says commitment letter obtained without its knowledge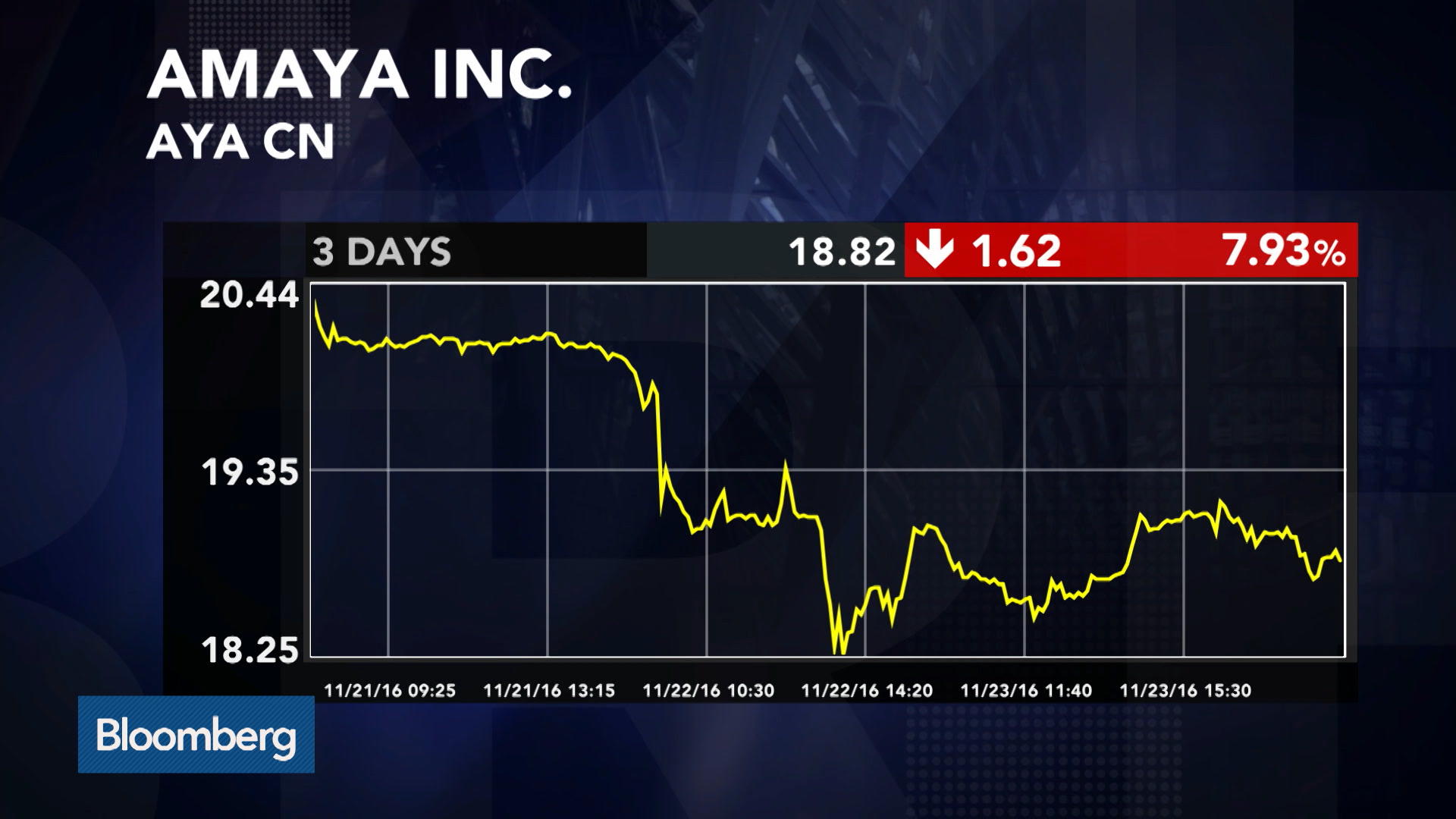 Amaya Inc. founder David Baazov vowed to push ahead with a $6.7 billion takeover bid for the online gaming company after a Dubai-based investor said its purported backing for the deal was given without the firm's knowledge or consent.
Baazov said in a statement Wednesday he had been advised by KBC Aldini Capital Ltd. that the investment firm hasn't committed any financing for the deal.  Baazov said he plans to find replacement funds and still intends to buy the Pointe-Claire, Quebec-based owner of Pokerstars for C$24 a share. He didn't say where he would get the new financing.
Amaya plunged Tuesday after the Globe and Mail reported that KBC Aldini said it had no dealings with Baazov and that it wasn't backing his bid to take the company private. KBC was one of four investors named in the Nov. 14 offer, apparently providing a combined $3.65 billion in equity financing. The others were Hong Kong-based Head and Shoulders Global Investment Fund and Goldenway Capital SPC, along with Ferdyne Advisory Inc., which is registered in the British Virgin Islands. Neither Goldenway Capital or Ferdyne could be reached for comment.
Kalani Lal, KBC's chief executive officer, said by telephone Wednesday he was surprised when he saw his company's name in regulatory filings backing the bid. He said his firm has had no interaction with Baazov and has filed a complaint with the U.S. Securities and Exchange Commission and regulators in Canada. KBC Aldini is a boutique investment bank that has raised $2 billion for past deals. he said.
"Somebody has misused our name," Lal said. "I am totally confused. I'm totally lost."
Raises Doubts
Another Baazov backer said the confusion over KBC Aldini has cast uncertainty on the deal.
"The only thing I can confirm with you is that we are working with David Baazov," said Stanley Choi, chairman of Head and Shoulders Financial Group, in a telephone interview Wednesday prior to Baazov's disclosure. Asked if he thought the bid would proceed, he said, "I don't know. There is a lot of uncertainty right now."
Amaya rose 0.80 percent to C$18.82 at 3:30 p.m. in Toronto, after dropping 6 percent Tuesday. The shares trade 28 percent below Baazov's offer price, for a market value of C$2.7 billion ($2 billion). The $6.7 billion offer includes debt.
Baazov's Toronto-based advisers, Canaccord Genuity Group Inc. and Goodmans LLP, had received signed financial commitment letters purporting to be from each of the financial backers and conducted due diligence on the commitments, according to people familiar with the matter.
Representatives for Canaccord and Goodmans weren't immediately available for comment.
No Assurances
Eric Hollreiser, a spokesman for Amaya, wasn't immediately available for comment. He said Tuesday while the company has engaged in discussions with Baazov's advisers over his proposal, no agreement has been reached and there's no assurance one will be.
"Prior to entering into any agreement with Mr. Baazov with respect to a transaction, Amaya would conduct appropriate due diligence regarding Mr. Baazov's financing sources," Hollreiser said in an e-mail.
In August, Baazov resigned from all positions within Amaya after he became the subject of an insider-trading probe by Quebec's securities regulator. He said he planned to vigorously contest the matter, calling the allegations false. He took an indefinite leave of absence in March after the allegations were made, and remains the largest shareholder in Amaya.