Your Evening Briefing
Here are today's top stories
Bloomberg News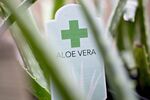 Want to receive this post in your inbox every afternoon? Sign up here.
This week offers a cornucopiae of reasons to spend. You've heard of Black Friday, but two similarly named "holidays" you may not be familiar with take place before then. Ebay will unleash sales for what it's dubbed Mobile Wednesday (good luck getting that clunker of a name to stick). It's also Weed Wednesday, when dispensary sales see a huge increase ahead of the Thanksgiving holiday (see also: Green Friday).
Whenever you're ready to start your holiday shopping, Bloomberg Pursuits has 116 suggestions. –Emily Banks
Your aloe vera gel may contain no aloe vera at all. Samples of store-brand aloe gel purchased at Wal-Mart, Target and CVS showed no indication of the plant in various lab tests. The products all listed aloe barbadensis leaf juice — another name for aloe vera — as either the No. 1 ingredient or No. 2 after water.
Nominating Steven Mnuchin for U.S. Treasury secretary will dredge up mortgage meltdown controversies. The former Goldman partner ran a bank dubbed a "foreclosure machine." According to Bloomberg calculations, he may have personally gotten more than $200 million in proceeds from the sale of a lender.
A $100 billion Chinese-made city near Singapore "scares the hell out of everybody." Country Garden's Forest City, on four artificial islands, will house 700,000 people on an area four times the size of New York's Central Park. Construction began in February and about 8,000 apartments have been sold. Some worry construction will outpace demand.
An accident involving Facebook's experimental drone is under investigation. No one was hurt in the incident on June 28, during the unmanned aircraft's first test flight. The high-altitude drone, which has a wingspan wider than a Boeing Co. 737 and is being developed to bring internet to remote areas, suffered a "structural failure" as it was coming in for a landing.
If Democrats work with Trump, they may make him more popular. Liberals face a dilemma. "It could solidify his strength and give him more standing, not just to get re-elected, but to pursue all these other issues such as deportation or deregulation on climate issues that the party doesn't have any stomach for," said Julian Zelizer, a political historian at Princeton University.
Are business rivals behind online attacks on Elon Musk? Tesla's CEO attracts an unusually large and varied number of shrouded online attacks, including phony op-ed pieces, websites with shadowy backers, and individuals who hide behind aliases. His diverse business interests mean he has numerous rivals.
Here are 116 luxurious gifts for the holidays. We've picked out the most fantastic gifts for the luckiest people in your life, including a 24-carat, gold-plated telescope; the most comfortable alligator-skin gloves on the planet; and a necklace studded with 118 white diamonds and 44 sapphires.

Before it's here, it's on the Bloomberg Terminal.
LEARN MORE