The Maker of Moët & Chandon Is Sweet on China
Chandon makes and bottles the bubbly locally, where people add Coke to their sparkling wine.
By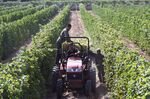 At first glance, the bottle might look like a fine Champagne from LVMH Moët Hennessy-Louis Vuitton, the French maker of wine, spirits, and other luxury goods. Gold wrapping covers the pressurized cork, and the label bears the description "Méthode Traditionnelle." The telling details are in the fine print. This sparkling wine is made by Domaine Chandon (Ningxia) Moët Hennessy, a partnership between the winemaker and the local government of Ningxia, a small region in north central China.
LVMH, like other wine and spirits makers, is counting on China to become a major growth market. After more than doubling its vineyard acreage since 2000, China has more land for growing grapes than France. China's wine market will be worth 153.8 billion yuan ($22.3 billion), according to Euromonitor International. Since 2014 the joint venture has been producing a bubbly mix of chardonnay and pinot noir from locally grown grapes at its winery in Ningxia. To win over Chinese drinkers, the company is tweaking its traditional formula, says Davide Marcovitch, global president of LVMH subsidiary Chandon, which makes sparkling wines in Argentina, China, and other countries. "We are innovating for consumers who don't like the traditional taste of Chandon," he says.

Sparkling wine typically isn't sweet enough for local tastes, says Claudia Masueger, founder and chief executive officer of Cheers, a chain of wine stores throughout China. People would often add Coca-Cola "to make it drinkable," she says. Now younger, affluent consumers willing to try different varieties of wine are buying it.
Sparkling wine consumption in China is less than 1 percent that of non-bubbly wine. In the U.S., the figure is about 5 percent, and in Japan, France, and Britain, it's about 10 percent, says Chuan Zhou, research director with Wine Intelligence, a market-research and consulting firm in London. "There's still a long way to go" to persuade Chinese to try it, he says.
Traditionally, the bottles Chinese consumers did buy were mostly given as gifts, to curry favor with government officials—the price tag mattered, not the wine itself. But a crackdown on graft by President Xi Jinping's government has curtailed such gift giving. Sales of sparkling wine in China will be 8 percent lower this year than they were in 2014, Euromonitor says.
Chandon is trying to raise the profile of its Ningxia wines by offering tastings at supermarkets, organizing promotions at restaurants, and opening its winery to tourists. Early in 2017 the company will introduce Chandon Me, a sweeter bubbly made specifically for the Chinese market. (The name is a play on the Mandarin word for honey.) "We're trying to balance the taste," says David Tung, managing director of Chandon China. The winemaker, which will produce blanc and rosé versions of Chandon Me, also plans to open a store on Alibaba's online Tmall marketplace next year.
The company hopes Chinese consumers will pay as much as 200 yuan for a bottle of Chandon Me. "To make them appreciate sparkling wine as it is today will take 20 to 25 years," Marcovitch says. Chandon Me will try to create a market now. Ma Huiqin, a marketing expert and professor in the College of Horticulture at China Agricultural University, says if the brand is well-known and the price is right, there's "a very good chance" of success.
Jim Boyce, a Beijing-based wine promoter and founder of the Grape Wall of China blog, agrees the time might be right for Chandon. "We are seeing a fundamental change in the market," says Boyce, who featured 12 sparkling wines in a Beijing tasting competition last December. "The rise of the taste-based consumer is really going to have an impact on sparkling wine sales." To win over consumers in other Asian markets, Chandon plans in 2017 to start selling a fruity sparkling wine in Japan and a sparkling wine in India meant to be served on the rocks.
In the first half of 2016, revenue for LVMH's wine and spirits group, which includes Chandon and Hennessy cognac, grew 7 percent from the year before, to €2.1 billion ($2.2 billion), better than the group's overall revenue growth of 3 percent. Wine and spirits profit grew 17 percent, to €565 million, LVMH announced on July 26.
Marcovitch dismisses Champagne purists who scoff at the changes Chandon is making to appeal to new customers. "We have to break the paradigm that sparkling wine has to be drunk in crystal only" and chilled, he says. "If you are in a hot climate and you put ice cubes in your sparkling wine, it's really much more pleasant."
The bottom line: To tap into the huge potential for sales growth in China, French vintners are breaking tradition to make sweeter sparkling wines.
Before it's here, it's on the Bloomberg Terminal.
LEARN MORE