Energy Borrowers Face Tougher Lenders Despite Crude Run-Up
By
Junk-rated North American firms have $18 billion for 2019

Then comes $30 billion more maturing in next four years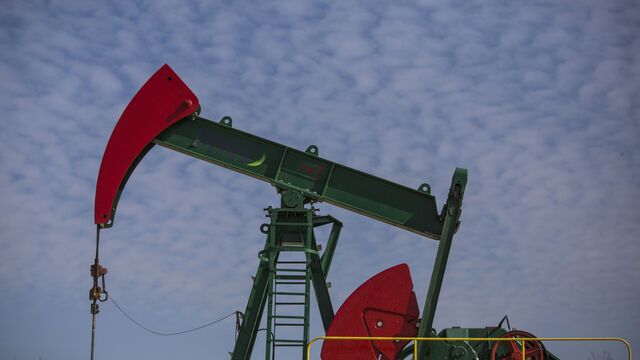 U.S. energy companies that have been riding this year's run-up in oil prices may want to look toward the horizon where a mountain of expiring debt is looming.
More than $18 billion of loan commitments comes due in 2019 for a group of 14 North American junk-rated oil producers, according to a Bloomberg Intelligence report. After that, they have $30 billion more in bank loans and bonds maturing in the next four years.
Much of the 2019 loans are bank credit lines that are up for extension. This time around, the talks with lenders may be tougher than expected because bankers are wary of all the funded term debt that comes due after 2019, BI credit analyst Spencer Cutter wrote in the report last week.
"Even if they are undrawn, companies are going to need to renew and extend revolvers before they expire," Cutter said in an interview. "It's very tricky to try to run a business of any size without a revolving credit line."
The coming squeeze shows that energy borrowers are still struggling to adjust their finances to the realities of the historic slump in prices, a task made more difficult because banks face stringent federal rules that curtail loans to volatile sectors. Many producers need oil prices of at least $55 to $60 a barrel to return to profitability, according to BI's Cutter, but the forward curve shows prices for WTI crude will remain below that level until 2022.
Reducing Exposure
"There are too many risks lending to oil producers. You have regulatory scrutiny and uncertainty on commodities prices," said Lewis Grimm, a leveraged finance attorney at Jones Day. "It's also expensive money, forcing banks to set aside capital even when the revolving loan is undrawn. And the fees may not be enough to compensate for the potential downside if things go bad."
Bankers hardly need to be reminded. This year alone, at least 19 energy producers and service providers filed for bankruptcy to restructure more than $44 billion of debt, according to data compiled by Bloomberg.
"Lending in energy will be tighter, as most banks are still trying to reduce their exposure, not add to it," said Barry Kupferberg, director of research at hedge fund Trilogy Capital Management.
Getting Bumped
In some cases, revolver lenders that normally stand first in line to get paid in a bankruptcy have found themselves far back in the crowd. When Ultra Petroleum Corp., a Houston-based driller, filed for Chapter 11 in April, its senior bank lenders including Oaktree Capital Group LLC and Anchorage Capital Group realized their loans had no more priority than unsecured bonds. Those were trading at about 15 cents on the dollar at the time of bankruptcy filing, according to Trace, the bond-price reporting system of the Financial Industry Regulatory Authority.
Among the 14 companies BI studied, oil-and-gas producers California Resources Corp., Whiting Petroleum Corp. and EP Energy Corp. have used their credit lines the most. Collectively, they've tapped $2.29 billion of the $5.55 billion they can borrow under credit lines committed until 2019, data compiled by Bloomberg show. Whiting has drawn the least proportionately, $650 million out of $2.5 billion. Together the three companies have $9.13 billion of debt due from 2020 to 2023, the data show. 
With energy prices still depressed, the drillers haven't been able to earn their way out of trouble. California Resources' profit dropped two-thirds last year, and Whiting and EP Energy reported declines of more than 40 percent, according to filings.
Margita Thompson at California Resources and Bill Baerg at EP Energy didn't respond to requests seeking comment. Eric Hagen at Whiting declined to comment.
"Only the companies that can reach the threshold to make money will be the ones to get the bulk of the financing," said Stephen Schork, president at Schork Group, an energy consulting company in Villanova, Pennsylvania. "The worse ones will be left behind or get consumed by their better competitors."
Before it's here, it's on the Bloomberg Terminal.
LEARN MORE