Opposition in Kenya Seeks One Candidate to Challenge Kenyatta
by
Raila Odinga says he would support united opposition candidate

New 'super alliance' seeks to defeat President Kenyatta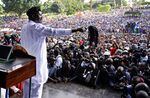 Former Kenyan Prime Minister Raila Odinga, who has failed in three previous elections to win the presidency, said he's ready to bow out of the presidential race if a united opposition chooses another candidate to challenge the incumbent Uhuru Kenyatta in next year's vote.
The Coalition for Reforms and Democracy, which Odinga heads, appointed a team to decide on who its flag-bearer will be in the Aug. 8 vote, he said in an interview published in the Standard newspaper Tuesday. The 72-year-old politician said he'll respect the team's decision even if it means his name isn't on the ballot.

"The team working on CORD's flag-bearer is working on a ticket which, by our constitution, involves picking a candidate and running mate," Odinga said. "It is also looking to fill other key positions. I will respect the decision of this team because as the leader of the coalition, I was party to setting up this search team."
Musalia Mudavadi, a former finance minister who came third in the last presidential election in 2013, has proposed that opposition parties unite under the banner of the National Super Alliance to stop Kenyatta winning a second term in office. Mudavadi, Odinga, Ex-Vice President Kalonzo Musyoka and Senator Moses Wetang'ula have all been touted in Kenyan newspapers as potential opposition presidential candidates.
Opposition Expands
Odinga said CORD would be part of the proposed super alliance to run against Kenyatta's ruling Jubilee party.
"The opposition is expanding and CORD will be part of the expanded opposition," he said. "The ultimate goal is to present a single candidate against Jubilee."
An opinion poll commissioned by the Nairobi-based Star newspaper and published earlier this month found that 47 percent of Kenyans would back the Jubilee party next year, compared with about 40 percent for the proposed alliance. In 2013, the opposition disputed the outcome of the vote after Kenyatta obtained about 4,000 more votes than required to secure a first-round victory.
Odinga said he'll remain in CORD even if he's not picked as the opposition presidential candidate for the election.
Before it's here, it's on the Bloomberg Terminal.
LEARN MORE