markets
IMF's Lipton Says China Should Make Exchange Rate More Flexible
Bloomberg News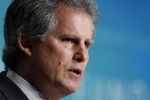 International Monetary Fund Deputy Managing Director David Lipton said China should move toward a more flexible exchange rate policy and that its current account surplus still isn't in line with fundamentals.
Private sector debt is very high and there are questions about whether companies are able to repay their debt, and allowing unprofitable companies to continue producing and borrowing despite high debt could hurt the economy, Lipton said Tuesday at an IMF-sponsored event in Beijing. A rise in corporate debt could force a sovereign intervention, forcing up public debt, he said.
While globalization has spurred much discontent across many countries, the world still has much to gain from such interconnection and a fragmentation could be damaging, he said. Global growth has been too low for too long, and has benefited too few, Lipton said.
China's currency policy has come into sharper focus in recent weeks as the yuan fell to its lowest level since 2008 and Donald Trump's election victory raised the prospect of trade frictions with the U.S. With the economy on track to meet its full-year growth target, China's policy makers have signaled a switch toward reining in excessive debt.
— With assistance by Kevin Hamlin
Before it's here, it's on the Bloomberg Terminal.
LEARN MORE