Hungary Leaves Main Rate on Hold Amid Unconventional Easing
Zoltan Simon
Policy makers reduce overnight lending rate for second month

Central bank deposit caps, swaps are main tools for easing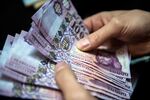 Hungary's central bank left the benchmark interest rate unchanged for a sixth month as unconventional monetary easing cut interbank borrowing costs to a record.
The National Bank of Hungary kept its three-month deposit rate at an all-time low of 0.9 percent, matching the median estimate of 21 economists in a Bloomberg survey. Policy makers cut the overnight lending rate to 0.9 percent from 1.05 percent. The central bank is "ready to ease monetary conditions further using unconventional, targeted instruments" if needed to meet the inflation goal, the rate-setters said in a statement after the decision.
Seeking to avoid being forced to reverse any future rate cuts, rate setters are aiming to keep the benchmark unchanged for a sustained period, Governor Gyorgy Matolcsy said in a interview with Vilaggazdasag published on Nov. 8. Instead, they're relying on boosting liquidity in the banking system with unconventional tools, including a cap on central bank deposits and with swap tenders, to increase lending and cut borrowing costs as economic growth slows.
"It may have left the benchmark rate unchanged, but the central bank is anything but idle," Gergely Urmossy, a Budapest-based economist at Erste Group Bank AG, said in an e-mail after the rate decision, citing the cut in the overnight-lending rate, the benchmark deposit cap and liquidity injections. "All of the steps constitute monetary easing."
The central bank pared the extra liquidity injected into the banking system on Monday after the three-month Bubor interbank rate fell to 0.66 percent, well below the main policy rate. Bubor is the benchmark used to calculate interest payments on at least $100 billion of loans and securities. The forint has strengthened 2.4 percent against the euro this year. It was trading at 308 per euro at 3:25 p.m. in Budapest.
Squeezing Liquidity
The regulator accepted 485 million euros ($515 million) from commercial lenders in euro-forint swaps for a duration of one month, compared with 649 million euros in securities that mature this week. That pared the extra liquidity injected into the banking system to 350 billion forint ($1.2 billion) from 400 billion forint.
On Wednesday, the central bank will further cut commercial bank deposits in its benchmark instrument, enforcing a 900 billion forint year-end cap. The regulator has offered to accept 450 billion forint in deposits at its monthly tender, according to the central bank's Bloomberg page, less than the 637 billion forint in expiring deposits.
Consumer prices rose 1 percent in October from a year ago. Policy makers target 3 percent inflation in the medium term.
Before it's here, it's on the Bloomberg Terminal.
LEARN MORE