Hammond Risks Ire of Brexit Campaigners With 'Negative Tone'
By
Chancellor has warned of 'sharp challenges' on leaving EU

Economist Minford says people 'dissatisfied' with Hammond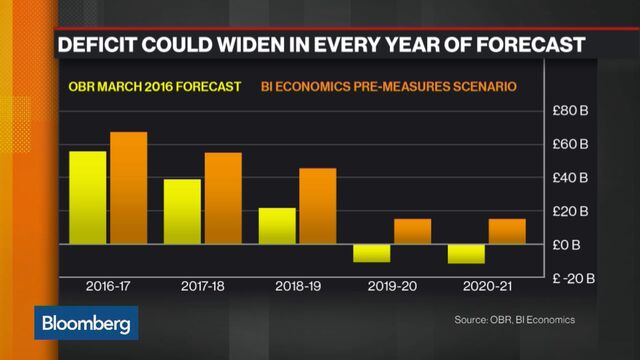 Chancellor of the Exchequer Philip Hammond's reputation for caution helped propel him up the greasy pole of British politics. Now it risks backfiring.
As he prepares to outline his fiscal plans on Wednesday for the first time since taking office in July, Hammond is under attack from those who campaigned most ardently for Britain to leave the European Union.
Their criticism is that by warning of "sharp challenges" and "a degree of uncertainty" for businesses, Hammond is undermining the case for Brexit and risks hurting confidence in the economy. He may incur their displeasure again this week if he's not more upbeat about the outlook.
"A lot of people are increasingly dissatisfied with Hammond's negative tone," said Patrick Minford of Cardiff Business School, a former adviser to Margaret Thatcher and one of the few economists to campaign for Brexit.
While Minford predicts freedom from EU bureaucracy and the ability to strike trade deals will allow the U.K. economy to thrive, Hammond has been more circumspect. On Sunday he warned "business likes certainty and that's one of the challenges we face over the next couple of years."
It's not the first time Hammond, 60, blotted his copybook with the Brexit lobby. He became the target of anonymous briefings predicting his political demise after he promoted the need to maintain access to the EU's market and safeguard Britain's finance industry when others were prioritizing immigration controls.
Defending Carney
He's also clashed with Foreign Secretary Boris Johnson and Trade Secretary Liam Fox over whether to remain in the EU's customs union, and Prime Minister Theresa May rejected his advice to review immigration rules for university students. He defended Bank of England Governor Mark Carney, whose pre-referendum warnings drew the ire of pro-Brexit politicians.
Such were the divisions that May ordered her cabinet to unite behind a common strategy last month, leading Hammond and Brexit Secretary David Davis to agree to set aside their ideological differences as the end-March deadline for triggering the formal departure process draws nearer.
Hammond's conservative approach is in keeping with the sarcastic sobriquet "Box Office Phil," given by those in the media who lamented that his interviews as foreign secretary rarely elicited news. A former company director, he became a member of Parliament in 1997 and campaigned to stay in the EU before being handed the keys to the Treasury when May became premier.
Hard Task
The test in Wednesday's Autumn Statement is whether he paints a positive enough picture of the future to pacify his critics. That won't be easy. Economists expect the Office for Budget Responsibility to cut its growth forecasts and add 100 billion pounds to the borrowing outlook over the next five years, while inflation is accelerating fast as a result of the pound's 12 percent collapse since the Brexit vote..
Conservative lawmaker John Redwood wrote in the Financial Times this week that he saw "no reason" for the government to downgrade its March forecasts for the economy, which showed growth of 2 percent this year and 2.2 percent in 2017.
Despite Hammond's predecessor George Osborne warning of a recession in the run-up to the June referendum if Britons backed Brexit, the economy has outperformed expectations with consumers showing no signs of wanting to scale back despite the squeeze from rising prices. The Bank of England raised its forecasts this month and now sees growth of 2.2 percent in 2016.
Brexit Impact
But the economy is expected to be hit harder next year as uncertainty leads companies to put hiring and investment on hold. With a forecast of 1.4 percent, the BOE is more optimistic than private-sector economists surveyed by Bloomberg. They see output expanding just 0.9 percent on average, the weakest performance since the global financial crisis.
"The chancellor would be well advised to 'look through' the fashionable gloom about next year," said Redwood. "Too many economists are still overly pessimistic about 2017, which no doubt means that the chancellor will be told he has less tax to spend with more involuntary spending commitments on welfare."
Hammond has nevertheless noted Britain's "eye-wateringly" large debt binds his hands, despite May's desire to help those "just about managing" to make ends meet. Having once promised to "reset" fiscal policy, he's more recently cautioned against expecting a "splurge."
"The Brexit MPs who endorsed Osborne's austerity now argue that we should increase the deficit," said Simon Wren-Lewis, a professor of economics at Oxford University who has advised past chancellors. "One day people will realize how much they are being duped."
Before it's here, it's on the Bloomberg Terminal.
LEARN MORE