Cooking
Del Posto Has a Gourmet Way to Use Potato Chips in a Salad
by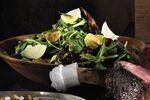 "It's no mystery why murder rates spike between mid-November and late December," says Anthony Bourdain in the intro to the Thanksgiving chapter of his new cookbook, Appetites. It's his tongue-in-cheek way of saying that holiday meal prep is invariably capital-S Stressful. "When you look at the list of 'must have' dishes expected, the prep works seems a daunting, logistical nightmare," he adds.

Coming to Bourdain's—and everyone's—emotional holiday rescue: a super-appealing, dead-simple Potato Chip Salad from the just-out Del Posto Cookbook by Mark Ladner. (What a good season for cookbooks this is.)
The beauty of Potato Chip Salad is that it can work for any meal, really; essentially, the potato is subbing for a crouton. (Ladner calls them "potato chip croutons.") It's a high-low tweak that manages to make your daily greens feel novel, especially when amped up further with the Parmesan hit, or as Ladner also recommends, throwing in some tender sun-dried tomatoes. It tastes as if it's got a lot more going on than a mere seven ingredients.
"The potato chip salad typifies the whimsy and genius of Mark Ladner," Mario Batali, star chef and Del Posto's co-owner, bragged to us. "With the potato chip, he introduces an unlikely, but perfectly complementary crunch to salad. At Del Posto, we've served it with a swank rib roast, so it's designed for the sort of holiday feast that you make when you're entertaining and not hibernating in December." Batali said he often makes this for his sons at home. 
If you're in a crunch (sorry, had to), I'd even skip the step of making your own potato chips—you can buy perfectly great ones just about anywhere that sells food. Just be sure to get thick chips, or the dressing will knock them out and make them soggy. "Add the chips at the very last moment to avoid flaccid chips," Ladner writes. "No one likes a flaccid chip."
In the end, you'll have a dish that does triple duty: as a refreshing hit of greens in the midst of a heavy meal; as a dish for snack food that non-salad-eaters/most kids can pay attention to; as a menu talking point when you're done debating the turkey and the stuffing and the election.

Potato Chip Salad
Adapted from The Del Posto Cookbook by Mark Ladner
Serves 4 to 6
Homemade Potato Chips
4 medium fingering potatoes, scrubbed
3 cups vegetable oil, for frying
Kosher salt
* Alternatively, just buy a medium-sized bag of thick, lightly salted potato chips.
Salad
½ pound arugula
¾ cup Parmesan shavings
¼ cup extra-virgin olive oil
1 ½ tablespoons fresh lemon juice
Kosher salt
To make the potato chips:
Slice the potatoes very thin with a mandolin or thin sharp knife. Cover them with cold water in a bowl for 5 minutes. Stir the slices then drain and dry on paper towels.
Heat the vegetable oil to 350° F on a fry thermometer in a deep, heavy skillet. Working in batches, fry the potato slices in the hot oil until golden, about 90 seconds; turn once or twice. Transfer to paper towels to drain with a slotted spoon. Season with salt.
To make the salad:
In a large bowl, combine the arugula, cheese shavings, oil, lemon juice, and a large pinch of salt. Toss well. Add most of the potato chips and toss again. Top with the remaining chips and serve.  

Before it's here, it's on the Bloomberg Terminal.
LEARN MORE