Chow Tai Fook Surges to a Year-High as Profit Slump Eases
by
Jeweler announced special dividend of 15 H.K. cents per share

Company aims to cut its rents as much as 30% this fiscal year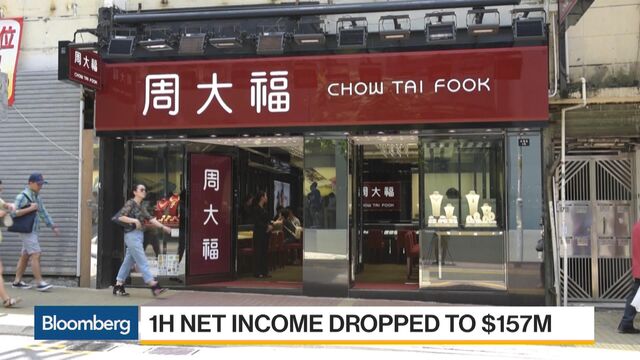 Chow Tai Fook Jewellery Group Ltd. shares jumped to the highest level in more than a year after the world's largest publicly traded jewelry chain reported its profit slump eased after it negotiated lower rents and shuttered stores amid tepid Chinese demand for luxury goods.
Net income dropped 22 percent to HK$1.22 billion ($157 million) for the six months ended September, easing from the 42 percent decline in the same period last year, Chow Tai Fook said in a statement Tuesday. The jeweler also announced a special dividend.
Chow Tai Fook shares rose as much as 9.7 percent Wednesday to the highest intraday level since November 2015 in Hong Kong trading, while the Hang Seng Index was little changed.
"Hong Kong's retail market has been weak for a long time, so investors are excited about any recovery sign, however small it is," Hannah Li, a Hong Kong-based analyst at UOB Kay Hian Ltd., said by telephone. "Smaller declines in Hong Kong retail sales figures in September is another catalyst -- but the market is unlikely to see a significant recovery in the near term."
Hong Kong-based cosmetics retailer Sa Sa International Holdings Ltd. also surged ahead of the benchmark index, up as much as 5.4 percent to a two-week high as it proposed a special dividend amid profit that fell less than last year.
Chow Tai Fook, which operates more than 2000 jewelry and luxury watch outlets mainly in Greater China, has shut some of its outlets in Hong Kong and Macau amid an economic slowdown that has damped Chinese appetite for jewelry and luxury watches. In Hong Kong, where Chow Tai Fook is based, retail sales has been falling for 19-straight months through September as tourism declined.
Cut Rents
Chow Tai Fook aims to cut rental rates on its stores as much as 30 percent on average and will shutter a net seven to eight outlets in Hong Kong and Macau this fiscal year, managing director Kent Wong said in a briefing after the results. It negotiated new leases for street-level shops that were 30 percent cheaper in the first half, according to finance director Hamilton Cheng.
Chow Tai Fook's sales and profit have slumped two and a half years straight, cutting its market value by more than half since early 2014. Its revenue fell 24 percent to HK$21.5 billion in the first half. Sales for stores open more than a year was down 26 percent in Hong Kong and Macau, and dropped 21 percent in mainland China.
Resetting Direction
Hong Kong's retail industry slump may be reaching a bottom, and the jeweler is optimistic that its revenue decline will ease in the second half of the current fiscal year, Chow Tai Fook Chairman Henry Cheng said at the briefing.
The company declared an interim dividend of 6 Hong Kong cents per share, and a special dividend of 15 Hong Kong cents per share. Last November, it had declared a special dividend of 42 Hong Kong cents per share, the first since it went public in 2011.
The jeweler, which started in mainland China in 1929, is rethinking its direction amid the downturn, and is shifting focus to target younger consumers, executive director Adrian Cheng said in an interview last week. "It's a reset as to the next 10 years," said Cheng, whose family's Chow Tai Fook Holding controls the jewelry chain.
"We need to look at the basics of what retail really means and what types of products are relevant today," said Cheng. Chow Tai Fook will introduce new brands with different price points, or new lines of products to target millennials -- those in their mid-30s and under -- as soon as the end of next year, he said.
Visits Decline
Chow Tai Fook's retail network expanded to 2,326 points of sales as of end-September, with a net addition of 7 during the period, it said Tuesday. Of these, 2,190 locations are in mainland China.
In Hong Kong, once seen as a shopping paradise for Chinese tourists, visitor arrivals from the mainland fell 8.7 percent for the first nine months this year, compared with a 3 percent decline in 2015, as the stronger U.S. dollar also made the city more expensive to shop in.
"The retail market in Hong Kong hasn't reached the bottom amid the declining visitation and spending," said Eva Yip, an analyst at China Everbright Securities (HK) Ltd., before the results. The ability to cut costs, especially its high rents, would be key for Chow Tai Fook to narrow the profit decline, Yip said.
Before it's here, it's on the Bloomberg Terminal.
LEARN MORE