Brexit Bulletin: Do You Know Your Brexit Negotiators?
We asked. And many don't.
by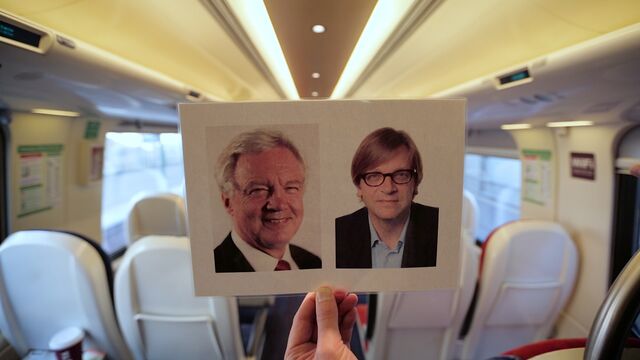 Sign up to receive the Brexit Bulletin in your inbox, and follow @Brexit on Twitter.
British Brexit Secretary David Davis found some rare common ground with Guy Verhofstadt, the European Parliament's Brexit interlocutor.
At a meeting in Strasbourg today, the two agreed "the process needs to start as early as possible" and finish by mid-2019, when Europe next holds legislative elections, Verhofstadt told reporters in Strasbourg.
Davis previously scoffed at Verhofstadt's pro-European views, something the Belgian joked about on Twitter yesterday:
Elsewhere in Europe, Slovak Prime Minister Robert Fico said today he's not sure Britain knows "what it wants" from Brexit, a line echoed by EU parliament member Manfred Weber, who said the U.K. appears to have "no idea" of the implications of leaving the EU.  
Ambassador Farage?
U.S. President-elect Donald Trump took to Twitter again overnight, this time to ruffle British feathers.
Trump declared U.K. Independence Party leader Nigel Farage would do a "great job" as Britain's ambassador to the U.S.
The idea was immediately shot down by Prime Minister Theresa May's office, who said there was "no vacancy."

Still, it will alarm the government that Farage has better links to the new administation than it does, a point the UKIP leader made himself in offering his services. 
Finance Fractures
Financial executives are split over whether Brexit will affect their investment plans over the next 12 months, according to a study by Lloyds Banking Group.
While 47 percent said the withdrawal could have some impact on the development of their U.K. operations, some 46 percent disagreed, the survey of 130 senior managers at global financial firms showed. About 8 percent said it would hurt.
Business Secretary Greg Clark sought to boost confidence last night, telling the British Bankers' Association dinner that finance is an "essential industry" and promising to seek a "good arrangement" for it in the divorce. BBA Chief Executive Anthony Browne agreed it was time to stop "grieving" and start making a success of Brexit.
Still, Charles Grant of the Centre for European Reform wrote in a blog yesterday that the U.K. may not be able to secure the transitional deals that banks and other businesses want in case Britain leaves the EU before it strikes a new trade deal. May acknowledged yesterday that it would be best to avoid such a "cliff-edge."
Train Trip
There is no return ticket on the Brexit express, unless you're Bloomberg's Rodney Jefferson.
Before the June referendum Rodney followed the longest train journey in U.K., traveling from Aberdeen in Scotland to Penzance in the southwest, to survey the nation's opinions about Brexit. Almost six months on, he's done it once again, to discover what the British now feel about their decision.
To most, there's no going back. "It was a mistake, but going over it again is pointless," said Stuart Harrison, 46. 

On the Markets
U.K. bond investors are getting a positive surprise even as analysts predict Chancellor of the Exchequer Philip Hammond is poised to increase borrowing by £100 billion ($124 billion) over the next five years.
Even with that, the Debt Management Office will sell an additional only £4.25 billion of gilts in the current fiscal year, on top of £131.5 billion targeted in March, according to median forecast of 14 primary dealers of the securities. 
Brexit Bullets
And Finally...
More on Philip May, the prime minister's financier husband who has been co-hosting dinners with executives at No. 10.
Experts from his company, The Capital Group, where May is a client relationship manager, have been opining about the U.K.'s departure from the EU.
They conclude with the following: "Investor worries that the Brexit process might ultimately leave Great Britain without access to the EU's single market led to growing calls for a second referendum." Theresa May has ruled out a return to the ballot box. 
For more on Brexit follow Bloomberg on Twitter, Facebook and Instagram, and see our full coverage at Bloomberg.com
Before it's here, it's on the Bloomberg Terminal.
LEARN MORE