business
Nasdaq's New CEO Prepared Years for the Job. Then Trump Happened
By
Adena Friedman will take over exchange from Bob Greifeld

Becomes first female U.S. exchange CEO amid regulatory turmoil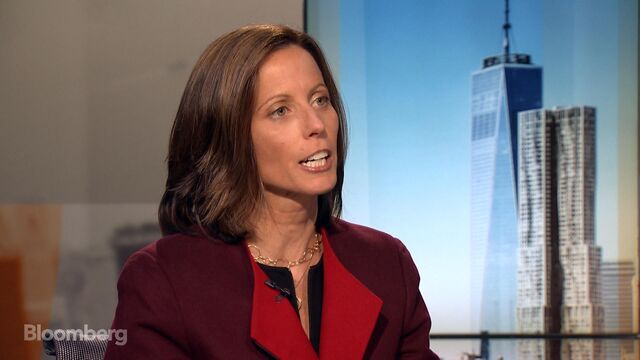 Adena Friedman, the next chief executive officer of Nasdaq Inc., is a black belt in taekwondo. She'll need all those fighting skills and more.
Friedman, 47, has been groomed for years by outgoing CEO Bob Greifeld to inherit the stock exchange in an industry where the rules looked fairly stable. But Donald Trump's surprise victory means the old playbook on financial regulation could soon be torn apart, just as she ascends to the exchange's top job on Jan. 1.
Consider what she faces: President-elect Trump's go-to man on financial regulation, former SEC commissioner Paul Atkins, has been calling for an overhaul of the current rules on equity trading. He's been a vocal critic of the decade-old landmark regulation that ushered in an era of all-electronic stock trading.
Meanwhile, SEC Chair Mary Jo White will step down when Barack Obama leaves office in January. And if that doesn't augur a profoundly altered trading environment, Trump also promised on the campaign trail to dismantle the Dodd-Frank Act, the 2010 law with broad effects on trading.
"We've been living through a lot of regulatory change in the last seven years," Friedman said with equanimity. "It could be that it continues."
Read more: What a Trump presidency means for financial regulation
Friedman will become the first female CEO of a major U.S. exchange group, cementing her position as one of the most powerful women on Wall Street. While Facebook's Sheryl Sandberg, who wrote the women's empowerment manifesto "Lean In," congratulated her on the social network, Friedman demurs on whether she considers herself a feminist.
"I don't ever use that vernacular, no," she said in an interview. "I just think of myself as a hard-working person who loves my job."
Friedman has been the consummate Nasdaq insider. After earning a business degree at Vanderbilt University's Owen Graduate School of Management in Nashville in 1993, Friedman stumbled on Nasdaq while hunting for a job in Washington, where the company was based at the time. She took an entry-level job, basically an intern.
Ten years later, Friedman was overseeing the company's data product when Greifeld arrived as CEO. At the time, Nasdaq was running on clunky, outdated technology and watching its market share get vacuumed up by nimble electronic trading platforms.
Reg NMS
Two years into Greifeld's Nasdaq career, U.S. regulators rocked the exchange business by passing Regulation National Market System, or Reg NMS, which paved the way for the domination of fast-moving electronic stock trading, where price and speed reigned.
Greifeld responded with acquisitions and improved technology, eventually turning Nasdaq from the operator of a single stock exchange to an $11 billion behemoth.
Friedman climbed the ranks to manage strategy and become chief financial officer, before leaving in 2011 for a three-year stint as CFO at Carlyle Group LP. She returned to Nasdaq in 2014, touching off rumors that she would be next in line to take over from Greifeld, her mentor.
"Adena has a drive to success, and a willingness to do whatever's necessary to succeed," said the 59-year-old Greifeld, who is becoming Nasdaq's chairman.
Complex Company
A detail fiend, Friedman now will need to show she can steer the complex company through a changing trading environment.
"As someone who grew up inside the organization, she's different from Bob," said John Jacobs, a former Nasdaq executive vice president and adviser to the company. "Bob had to save the ship and turn it around. She has to redirect it."
Some of the potential regulatory changes under the Trump administration could redound to Nasdaq's favor. For example, Atkins, who voted against Regulation NMS when he was at the Securities and Exchange Commission, has complained that it is overly complex and can create market distortions in its emphasis on price and speed in trading. Any overhaul of that regulation could conceivably end up directing more trades to exchanges like Nasdaq's rather than to the multitude of dark pools and other venues.
Similarly, Trump's call to dismantle Dodd-Frank could make it easier for banks to step back into the proprietary trading and market-making they had to curtail. Friedman said that could be a good thing for her business.
"We think there are elements of that regulation that could be moderated, most notably those that limit banks putting liquidity into the markets," she said.
Radical Changes
Nasdaq looks radically different from the company Friedman joined two decades ago. It has expanded to include venues in Europe and Canada, platforms for trading options and U.S. Treasuries, and businesses in exchange technology, investor relations and proprietary data.
The industry is also consolidating, with Deutsche Boerse AG and London Stock Exchange Group Plc working on merging. CBOE Holdings Inc. is buying Bats Global Markets Inc., an exchange group run by Friedman's former Nasdaq colleague Chris Concannon. Friedman, seen by some as a more cautious leader than Greifeld, will have to decide how to address those foes. Concannon, for his part, called Friedman "absolutely one of the hardest workers I've ever encountered."
She will also face a heated, ongoing industry battle over the amount exchanges are charging for their vital price feeds, an issue rankling banks and high-speed traders that need the information to run their businesses. (Bloomberg LP, the parent of this news organization, is a member of Sifma, an industry group that unsuccessfully sued Nasdaq and NYSE over data feeds.)
Friedman played an instrumental role in building Nasdaq's proprietary data business. With equity trading revenue squeezed, revenue from data products has swelled, bringing in about $400 million for Nasdaq in 2015, according to company filings.
On the cusp of new changes that could alter the job she's so painstakingly prepared for, Friedman said she feels up to the task. Some of her most formative moments came in a trial-by-fire setting, in a deal or project Greifeld would throw her way.
"He just said, 'Here you go, let's go, let's go get this done,'" she said. "Now we need someone who can help the company accelerate its potential. That's who I am."
Before it's here, it's on the Bloomberg Terminal.
LEARN MORE