Banker's 'Work-Related' Suicide Brings State Payout for Daughter
By
HSBC banker killed himself in 2007 after review, court says

French court ruling may allow family to sue for negligence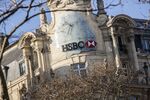 A Paris appeals court ruled that the suicide of a banker at HSBC Holdings Plc's French unit nearly a decade ago was "work-related" and triggered by a negative review during his annual evaluation.
The decision means that the daughter of Remy Thabard, a managing director at the unit, is entitled to more than 1 million euros ($1.1 million) in government compensation, plus additional payments until she turns 20. While the bank wasn't a defendant in the case, it may make it easier for the family to sue HSBC for gross negligence in the future, according to their lawyer, Jamila El Berry.
The suicide stemmed from Thabard's Dec. 17, 2007, evaluation, which was given without any warnings that would have allowed the 45-year-old to prepare for the discussion, the court said. "It wasn't preceded by requests for a meeting or messages that would have enabled him to discuss problems in a critical way with a view to improving his performance," the appeals court said in a ruling dated Oct. 27 and released to the family last week.
Thabard killed himself a few days following the review by jumping out of the window of his apartment in Paris' 16th arrondissement shortly after having abruptly left his office mid-morning.
"This was a terrible drama that took place in 2007, which was a shock for all of us," Sophie Ricord, a spokeswoman for HSBC France, said last week.
Decade-Long Ordeal
The ruling is a watershed in the family's nearly decade-long ordeal, during which Thabard's wife also committed suicide in 2012. A week later, in March of that year, a lower court ruled against the family's case for compensation, leading to the current appeal.
Sylvie Tarbouriech Kaploun, the aunt and legal guardian of Thabard's 12-year-old daughter, said that "justice has been done."
"It formalizes" for Thabard's daughter "the fact that her dad wasn't crazy and that there really was a problem. It's now been recognized by a judge and a tribunal," Tarbouriech said in an interview. "We've gone this far to demonstrate her dad was truly put under pressure, humiliated at work and that's what led to his suicide."
The family may now sue to shed light on the bank's management practices and prove that HSBC failed to protect Thabard's physical and mental health, their lawyer, El Berry, said in an e-mail. Separately, an investigative judge is still reviewing whether the bank should face possible criminal allegations of moral harassment.
At a June court hearing in the civil appeal, El Berry argued that Thabard had been "shot down" by his boss at the annual review and given the impression that he was being forced out.
'Shot Down'
"During his yearly evaluation interview he was pretty much shot down," she said. "He was told he had a foul personality and that he hadn't met his objectives."
HSBC's lawyer Jean-Sebastien Capisano told the court at the June hearing that "no investigation concluded there was a link between work and the suicide." Capisano said Thabard had the resources to do his job well and wasn't excluded from meetings, contrary to El Berry's allegations in the civil case.
Before it's here, it's on the Bloomberg Terminal.
LEARN MORE