As May Woos Trump, Nigel Farage Is the 'Ghost at the Tory Feast'
by
May's chief of staff snubbed Farage in restaurant stand-off

U.K. leader needs Trump's America more than ever after Brexit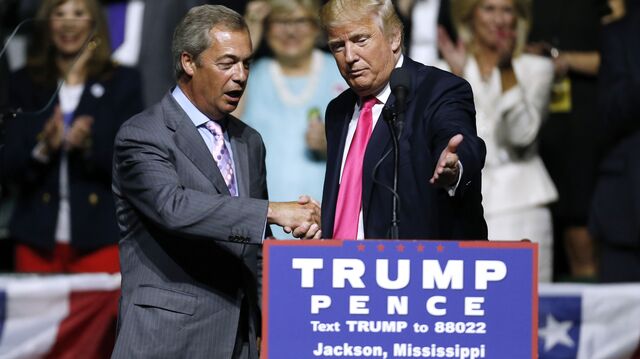 Eighty miles from the embassies of London, an Italian restaurant in an English seaside town is an unlikely birthplace for a political feud that could define the transatlantic alliance between the U.K. and the U.S.
At La Magnolia in Ramsgate, in April last year, Theresa May's most senior aide came face to face with Nigel Farage, her populist opponent who is now Donald Trump's preferred choice to be the next British ambassador to Washington. The leader of the U.K. Independence Party was in town campaigning to get elected while Nick Timothy, now prime minister May's joint chief of staff, was running the Conservative Party's campaign to stop him.
Farage tried to break the ice with the Tories, according to people familiar with the encounter. As customers dined on grilled fish and pasta, he approached the table where Timothy and others were eating and tried to strike a conversation. But they bluntly rebuffed his attempt to be sociable and Farage walked away, recalled the people, who declined to be named discussing private events.
The episode illustrates the animosity between Farage and May's team and underlines the difficulty the premier faces in fostering good relations with President-elect Trump. As May prepares to take the U.K. out of the European Union, the strength of the so-called special relationship between London and Washington is vital to her efforts to expand trade with the rest of the world.
Awkward Position
"Theresa May is in a terribly awkward position," said Tim Bale, professor of politics at Queen Mary University of London. "She needs as many links with Donald Trump as she can get but Farage is a pretty toxic link and probably not one she really wants to play with."
For his part, Farage is accustomed to the kind of frosty treatment he received at La Magnolia from senior Conservatives. For years, May's predecessor as Tory leader, David Cameron, took the same approach.
But bluntly dismissing UKIP got Cameron nowhere. He called the party a bunch of "fruitcakes, loonies and closet racists," and repeatedly refused Farage's demand to hold a referendum on EU membership. That is until it became clear to Cameron that many in his own party passionately supported Farage's Euroskeptic agenda.
In the months leading up to the 2015 general election, Cameron suffered two defections: first Douglas Carswell, then Mark Reckless ditched the Tories to join UKIP. Cameron was forced to promise an "in or out" referendum in his 2015 election manifesto. When he went on to win, Cameron had to make good on the pledge.
Tables Turned
But the tables were turned when Farage and his fellow Euroskeptics won the Brexit vote while Cameron's government, which campaigned to stay in the EU, lost. May took over as prime minister, and Timothy - her longstanding adviser - found himself beside her in Number 10 Downing Street, running the country.
Then came another blow. Trump beat Hillary Clinton in yet another earthquake that thrust Farage back in the spotlight. Farage had campaigned alongside Trump, backing the Republican during rallies in the run-up to the U.S. elections. Trump told his supporters in the days before voting that he was going to "do a Brexit" and overthrow the establishment.
Farage became the first foreign politician to meet the President-elect. The two were photographed side by side, grinning against the backdrop of a gold-and-diamond door in Trump Tower in New York. Trump was giving the thumbs up. The UKIP chief was in this unique position thanks to his friendship with Trump and his entourage, including chief strategist Steve Bannon, and Jeff Sessions, the President-elect's choice for attorney general.
May Sidelined
By contrast, the British prime minister appeared to have been outflanked. May had been critical of Trump's comments about Islamist extremists in London and waited for more than a day after his election victory before getting through to Trump on the phone.
Keen to make up for lost time, May's office announced Monday that the U.K. was considering inviting Trump for a prestigious state visit next year, during which he would stay with Queen Elizabeth II, and enjoy a Buckingham Palace banquet in his honor. He responded late at night on Twitter by saying Farage would be great as Britain's man in Washington.
"I would do anything to help our national interest and to help cement ties with the incoming Anglophile administration," Farage said in a article on the Breitbart website on Tuesday. "At every stage I am greeted by negative comments coming out of Downing Street," he said. "The dislike of me, UKIP, and the referendum result is more important to them than what could be good for our country."
South Thanet
After the restaurant stand-off last year, Timothy's team of Conservatives won the battle in South Thanet, preventing Farage from being elected to the U.K. Parliament. But that was not the end of the story. Nineteen months later, the Conservatives are facing an investigation into claims -- which they deny -- that the party broke strict limits on how much money it could spend on campaigning in an individual electoral district.
If any wrongdoing is proven, there will be another vote in South Thanet. Farage has said he'll stand as candidate, meaning May's team will have to fight him all over again. The battle for South Thanet stands as a symbol of May's difficulty in wrestling with populism.
"Farage has been a ghost at the Tory feast for getting on for a decade," said Bale. "No Tory leader has yet found a way of dealing with him. Either you distance yourself completely or you try to move onto his territory but neither of those things seems to work."
Before it's here, it's on the Bloomberg Terminal.
LEARN MORE