A Hybrid Wheelchair-Walker From the Inventor of the Steadicam
The Zeen is designed to help people sit, stand, and walk without assistance.
By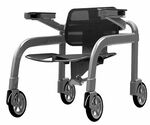 Innovators Garrett Brown and Chris Fawcett
Ages 74 and 58
Chief executive officer and chief technology officer of Exokinetics, a five-person Philadelphia startup that began this summer
Form and function
The Zeen is a four-wheel, height-changing, hybrid walker/wheelchair designed to help people sit, stand, and walk without another person's help. 
Origin
Brown, the Oscar-winning inventor of the Steadicam, started working on a more active wheelchair alternative in 2012, when his father's health was in decline.
Price
Brown says he aims to charge $2,000 to $3,000.

Funding
Exokinetics says that by yearend it will close a $2 million investment from Select Medical, which runs hospitals and other facilities, and venture firm Founders Fund. "We don't normally partner with device makers, but this could be revolutionary," says Select President and CEO David Chernow.
Standing
The user sits on the seat and fastens the seat belt, then leans forward slightly to be lifted from a seated position to a saddle-supported standing one. Leaning back slightly shifts it back to a sitting position.
Walking
To walk, the user pushes the armrests all the way forward or back to unlock the wheels and lock the seat at the desired height. The user's hands are then left free to work, carry things, or perform household activities.

Next Steps
Exokinetics is starting supervised tests in U.S. retirement homes and rehab centers. Brown says the team will decide next year whether to seek approval for the Zeen as a medical device. Either way, the product could be on sale by 2018 or sooner, he says. "Once older people go from walker to the wheelchair, there's such a huge decline," says Liron Sinvani, director for geriatric services at Hofstra Northwell School of Medicine in Manhasset, N.Y. "This really has the potential to improve quality of life."
Before it's here, it's on the Bloomberg Terminal.
LEARN MORE